Let's put this afternoon's pitchers in the Toronto Blue Jays-Cleveland Indians matchup side by side.
Mark Buehrle has an 0.86 ERA, 0.91 WHIP and .221 opponents' batting average in his first three starts of the season.
Corey Kluber has a 5.40 ERA, 1.68 WHIP and .347 opponents' batting average in his first three starts of the season.
On the surface, the numbers look similar in only one regard (Buehrle's strikeout-to-walk ratio is 16-2, Kluber's is 16-3), but …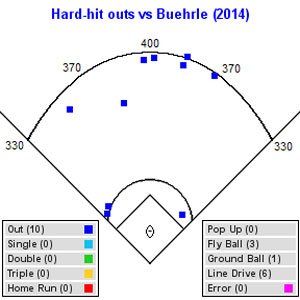 Mark Buehrle has gotten his fair share of outs on hard-hit balls in 2014.
Buehrle has allowed 16 batted balls that have been classified as hard-hit by Inside Edge's video-tracking system.
Kluber has allowed only 15.
They've each allowed hard-hit balls in 20 percent of the at-bats against them this season.
The difference in their performance this season is what has happened on those hard-hit balls.
Opponents are 6-for-16 with three singles and three doubles when hitting the ball hard against Buehrle. Against Kluber, opponents are 10-for-15 with two singles, six doubles and two home runs when hitting the ball hard.
Buehrle has benefited from his outfielders being able to chase down fly balls. In his last start against the Orioles alone, there were three warning-track fly outs that had they had a little bit more carry to them, would have gone over the fence and produced four more runs.
Kluber has not been as fortunate. Balls are falling in against him with a bit more frequency, not necessarily an abnormal one, but one that has been damaging to his overall performance nonetheless.
The gap between the two is much smaller if you take a look at a stat like FIP (fielding independent pitching), which estimates ERA based on strikeouts, walks and homers allowed. Buehrle's is 1.95. Kluber's is 3.22.
So forgive us if we like Kluber to bounce back this afternoon and for Buehrle to fall back to earth just a little bit.