Take a look at the spray chart on the right.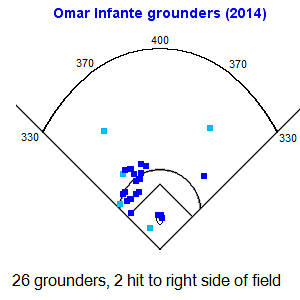 Omar Infante provides an interesting dilemma for teams that like to shift.
It is the profile of a right-handed hitter, Kansas City Royals infielder Omar Infante, with an extreme tendency to pull groundballs. He's hit 26 this season and only two have been hit to the right of the second base bag (we'll tell the story of one in a second).
Do you shift him or do you defend him straight up?
This is a fascinating topic of discussion.
If you watched last Thursday's "Baseball Tonight," you know where Eduardo Perez stands on the issue.
Perez, who was the Astros bench coach and was in charge of shifting last season, said that he would not shift Infante because Infante's bat-control ability negated anything that might come from his spray chart.
"He's too good of a hitter," Perez said.
This year, the Astros and their coach in charge of defensive positioning, Pat Listach, put on a full shift for Infante, the first team documented to do so (the Pirates and Rays have tried partial shifts against him for a combined total of six times).
Sure enough, in his second at-bat against the Astros this season, Infante adjusted and punched a base hit through the hole on the right side (the hits in the image are in light blue).
Expect to see "The Omar Infante Dilemma" play out with hitters across the major leagues (Jackie Bradley Jr. being shifted by the Yankees and Jimmy Rollins being shifted by the Mets in past years are other examples). We'll try to report on this from time to time in this space.
For now, we're curious. Would you shift against Infante? We find both sides of the debate to be compelling.
Share your thoughts in the comments.
Tigers D not so grrrreat
Last week we wrote about the defensive struggles of Torii Hunter, who currently has the worst Defensive Runs Saved total in the majors.
What we didn't detail is how the Tigers have fared as a team. They're currently at -21 DRS.
We bet you wouldn't be able to guess the team leader in DRS. It's none other than first baseman Miguel Cabrera, who has fared adequately in his move back to first. His three Defensive Runs Saved are tied for the second-most of any first baseman.
Double your (dis)pleasure
As one who regularly writes about the Mets, we've become sensitive regarding the turning of double plays, mainly because the Mets have struggled at it this season. They're tied for second the majors in a stat tracked by Baseball Info Solutions called Double Play Misplay & Errors, with five (the Padres lead the majors with eight).
If you're wondering what the difference is between a shortstop who rates well at turning a double play and one who rates poorly, a couple of examples work well.
Orioles shortstop J.J. Hardy has been either the fielder or pivot man on 21 groundballs with a man on first base and less than two outs this season. He's turned 19 of them into double plays.
That 90 percent conversion rate is the best in baseball, and as you can imagine, it's atypical for end-of-season numbers (the major-league average is 63 percent and Pete Kozma was the leader at shortstop last season at 75 percent).
The two shortstops who rate worst in baseball this season are Yunel Escobar of the Rays (nine of 24) and Ruben Tejada of the Mets (seven of 21).
Among second basemen, Josh Wilson of the Rangers (nine of 10) and Danny Espinosa of the Nationals (12 of 14) rate best and Eric Sogard of the Athletics (six of 19) rates worst.
Last season's leader was Ryan Flaherty of the Orioles (77 percent) and the major-league average was 65 percent.
Lough before you leap
In scouring video for the best plays made recently, we noticed a trend -- David Lough of the Orioles and his penchant for leaping catches.
Most Defensive Runs Saved
LF (Last 2 Seasons)
Lough made three of them in left field in an eight-day span from April 20 to 27, robbing A.J. Pierzynski, Jose Bautista and Jarrod Dyson of base hits.
Amazingly, Lough has the third-most Defensive Runs Saved among left fielders over the last two seasons (a position in which you typically play your third-best outfielder) despite having only played a little more than 200 innings there in that span.