You spend all season rooting for your team. You skip nights out on the town because you'd rather watch the game. Your phone is always on low battery because you're constantly checking the score. You make the playoffs. Four hours later, your season is over after losing a wild, high-scoring game. It's like the mom who lets you go trick-or-treating and then confiscates all the candy.
Sorry, Colorado Rockies fans. It's a shame we won't get to see more of Nolan Arenado this postseason. In the end, the better team won and it sets up what should be a fascinating series between the Arizona Diamondbacks and Los Angeles Dodgers, one that has upset special written all over. The Diamondbacks not only won the season series 11-8, but they also outscored the Dodgers 99-71 and won the final six games against them. The Diamondbacks will be confident. The Dodgers will be confident. Here's how Arizona can beat the team with baseball's best record.

Hope Clayton Kershaw isn't lights out
We all know Kershaw's postseason history: He's often great for six innings and then melts down in the seventh, as he has allowed 14 runs over five total innings in the seventh over the past four postseasons. Aside from that, it's possible Kershaw isn't at optimal health after a 40-day stint on the disabled list with a back strain. Note:
Before the DL: 31.1 percent K rate, .572 OPS allowed
After the DL: 24.6 percent K rate, .731 OPS allowed
He didn't reach 100 pitches in any of his six post-DL starts, and manager Dave Roberts has already indicated he's not going to use Kershaw on short rest in Game 4 like the Dodgers have done the past four Division Series, so Kershaw is probably on a rough 100-pitch limit anyway.
Does that mean the Diamondbacks should try to run up his pitch count? The Cardinals had some success doing that in the past, while others believe you need to attack Kershaw early in the count to avoid those unhittable two-strike curveballs and sliders. Of course, if Kershaw is on, the approach probably won't matter anyway.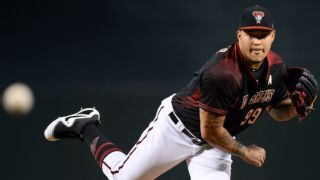 Hope Taijuan Walker is lights out
With Zack Greinke lasting just 3⅔ innings in the wild-card game, Arizona manager Torey Lovullo was forced to use Robbie Ray in relief for 2⅓ innings. Ray would have been the no-brainer option to start the NLDS opener given his success against the Dodgers in the regular season -- he went 3-0 with a 2.27 ERA in five starts, including 53 strikeouts in 31⅔ innings. Greinke threw 58 pitches and will definitely be out for Game 1; Ray threw 34 pitches, which at least means he could potentially come back to start Game 2 after two days of rest.
Given the pitch counts, I'd go Ray in Game 2 and Greinke in Game 3. That's not a disastrous scenario, because Lovullo could still go with Ray in Game 5 on regular rest. Either way, Walker is the Game 1 starter against Kershaw, and the winner of the first game of a best-of-five series goes on to win it 71 percent of the time. So he'll need to pitch his best against the best. Walker has had a solid season after coming over from the Seattle Mariners in the Jean Segura trade. The Mariners tired of his inconsistency, but Walker had an ERA under 4.00 each month. He had a 3.24 ERA in 16⅓ innings against the Dodgers. He also struggled with his command the final month, walking 18 guys in 30 innings, so Lovullo should have a quick hook if Walker isn't finding the plate.

Get to the middle relief of the Dodgers' bullpen
The Dodgers had the fourth-best bullpen ERA in the majors at 3.38, but ask any Dodgers fan and they'll tell you they don't have much confidence right now in anyone except Kenley Jansen and Brandon Morrow. Lefty trade acquisitions Tony Watson and Tony Cingrani did pitch better in September (a combined two earned runs in 20⅓ innings with 24 strikeouts), but overall the pen had a 5.30 ERA the final month while serving up 17 home runs in 112 innings. Of course, the worst of the bunch won't be on the roster and a starter or two will be available as a long guy, but Roberts is mostly hoping to get the ball from the starter to Morrow and then to Jansen, who will undoubtedly be used in save chances for more than three outs.

Paul Goldschmidt and J.D. Martinez versus Dodgers lefty starters
Besides Kershaw, the Dodgers will likely use Rich Hill and Alex Wood in the rotation. So that gets us to this:
Goldschmidt versus LHP: .311/.422/.591
Martinez versus LHP: .376/.464/.892
For that matter:
Chris Iannetta versus LHP: .300/.404/.563
If the Diamondbacks win the series, it probably means their two sluggers have hit some balls out of the park.
Play Iannetta
Jeff Mathis started the wild-card game as Lovullo went with his defense at catcher over Iannetta's bat. The team did have a 3.51 ERA with Mathis catching compared to 4.03 with Iannetta, but consider that Mathis caught 25 of Greinke's 32 starts (and Greinke had a 3.16 ERA in those games). That makes the difference between the two a little less extreme.
The reason Iannetta should start -- Wednesday's 11-run outburst notwithstanding -- is Arizona will need his offense. The Diamondbacks' offensive numbers were boosted by Chase Field, where they had a .842 OPS versus .706 on the road. Factor in those numbers Iannetta had against lefties and he should at least start against Kershaw, Hill and Wood. If Greinke prefers Mathis to catch when he starts, then stick with that, although I would predict Greinke matches up against Yu Darvish in Game 3.

Use Archie Bradley for more than three outs
OK, he gave up two home runs in the wild-card game, but he has been one of the game's best setup guys all season. Given Lovullo's obvious desire to limit Fernando Rodney to only three outs, Bradley needs to become Arizona's version of Andrew Miller, with Lovullo riding him for as many five- or six-out appearances as possible. You can rest in the offseason.