When the decision was made to move Carlos Zambrano and his $91.5M contract to the bullpen to "shore up the late inning issues," it was clear to Cub fans that something has gone seriously wrong with this team.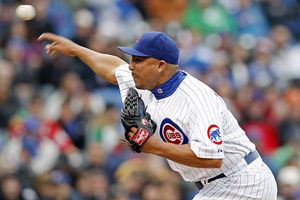 Jerry Lai-US PRESSWIRE
The Cubs can't keep Carlos Zambrano in the pen forever.Since the move, Zambrano has pitched to the tune of a 3.86 ERA in seven innings and has seemingly brought a presence to the pen that was sorely lacking. The problem comes when you look long term for the team.
You can make the argument the money has already been allocated for Zambrano, regardless of where he pitches.
But leaving Zambrano in the pen permanently means general manager Jim Hendry looks completely incompetent for the contract given to Z after the 2007 season that has ultimately resulted in a very expensive 8th inning guy. Couple that colossal blunder with the offseason moves that blew up in his face all last year -- and a two year deal to John Grabow this past offseason -- and you've got a GM that has spent an awful amount of cash with very little results. There is no question in my mind that Hendry must get Zambrano pitching and pitching effectively out of the starting rotation again to avoid massive amounts of criticism from the new ownership that could ultimately cost him his job should this team go south.
Zambrano said he expects the move to the pen to be a temporary one. A putrid pen forces the Cubs to figure things out sooner rather than later or risk Zambrano going ape over the fact that he's still in the pen come August. He's known to have a volatile temper, and you can only imagine what might happen should his patience run out while he's sitting on a bench with a bunch of kids that can't get people out. Should he be left in the pen as the long term solution, there is a definite chance of him approaching the Cubs to seek employment elsewhere. He has a full no-trade clause in his contract, but that could be waived in an effort to find someone who will let him start.
The longer the Cubs leave Zambrano in the bullpen, the longer it will take to get his arm in shape to work deep in a ballgame. If Zambrano is going to be an effective starter, especially down the stretch and into the playoffs (No I'm not smoking anything), he's going to need to build his arm strength back up and get that sharpness back as a starter. If not, do you really think the Cubs have a chance at advancing in the playoffs with either Carlos Silva or Tom Gorzelanny as the fourth starter? I'll bet no.
The Cubs have a move to make and it's a move to bring in enough help to get Zambrano back into the rotation. Perhaps the move involves a trade of Gorzelanny or Silva. Perhaps it means looking closer at guys like Kyle Farnsworth or Jason Frasor again. Whatever the move, it needs to be made sooner rather than later. The ball is in your court Mr. Hendry, where do we go from here?