Note: Twenty-five years later, the 1986 season remains one of the most interesting in baseball history. But it's not just the postseason that made the year so amazing, but all the rich and unusual moments and performances leading up to it. All season long, Mark Simon will chronicle one of the craziest, wildest and wackiest seasons in major league history.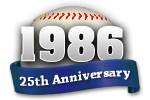 We start with Opening Day and, yes, the obvious moment to recollect is Dwight Evans' leadoff home run on Jack Morris' first pitch of the 1986 season, believed to be the only such homer to start a year.
But there was another noteworthy Opening Day home run the next day. So our focus instead is on the Angels-Mariners game of April 8th.
With the Mariners down two runs in the ninth inning, third baseman Jim Presley slugged a game-tying home run against Angels closer Donnie Moore, the same Donnie Moore who would give up a much more famous home run in October to Dave Henderson (who coincidentally began the season with Seattle). Presley's next turn would come an inning later with the score tied, the bases loaded and two outs.
"I remember a hanging slider from Ken Forsch and then I remember the noise of the crowd," Presley, now the Orioles hitting coach, recently recalled about his walk-off grand slam. "The crowd was the difference for me. Forty-seven thousand in the Kingdome. That was about as loud as it could get."
According to Elias, Presley became the first player in the Live Ball Era (since 1920) to hit a game-tying home run in the ninth inning and a game-winning home run in extra innings, on Opening Day.
Eerily, Presley was in the building for the only other such occurrence since then. He was Buck Showalter's hitting coach in Arizona when Raul Mondesi and the Dodgers burned the Diamondbacks in a similar manner on Opening Day 1999.
Mark Simon is the Baseball Research Specialist for ESPN Stats and Information. He thinks 1986 is the best baseball season ever.