Twenty-five years later, the 1986 season remains one of the most interesting in baseball history. It's not just the postseason that made the year so amazing, but all the rich and unusual moments and performances leading up to it. All season long, the SweetSpot blog will chronicle one of the craziest, wildest and wackiest seasons in major league history.
Tuesday, I got a chance to watch one of the most absurd baseball plays I have ever seen. And I want to share the excitement of watching that moment with you.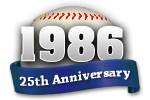 No, it had nothing to do with anything that happened in any game this season. My viewing of the antiquated videotape in the ESPN library was of the final play of a game that took place 25 years ago.
The May 18, 1986, contest between the Red Sox and Rangers had a few odd twists and turns entering the ninth inning, but nothing compared to the game's conclusion.
Bobby Valentine's Rangers blew a ninth-inning lead at Fenway Park but seemed poised to survive 13 walks from their pitchers to get a victory after scoring a run in the 10th inning on Tom Paciorek's base hit.
In the home 10th, Red Sox center fielder Steve Lyons singled with one out. With Marty Barrett at the plate, Rangers reliever Greg Harris threw away a pickoff attempt, allowing Lyons to go to second.
Barrett than reached for a curveball way off the outside part of the plate and lifted a fly ball down the right-field line. Rangers right fielder George Wright made an all-out sprint to try to catch the ball, and came within a hair of making what would have been a No. 1 Web Gem for sure.
"George Wright was billed by [former Rangers manager] Doug Rader as the top defensive player in the American League, and I believed it," said Valentine, when I asked him to reminisce with me earlier in this week.
Wright's diving attempt missed by a fraction of an inch. However, it was mid-afternoon at Fenway and it was hard for Lyons, who was headed to third base, to tell what happened. A sloped field made it an impossible to see right. So as Wright tried to locate the baseball, Lyons put his head down and raced to get back to second base.
As Lyons approached the bag, he slid, thinking that a throw was coming. Upon doing so, he had an unexpected guest arriving to meet him at the bag.
Barrett.
The two almost collided as they touched second at almost the same time.
"He was like 'What are you doing here?'" Lyons wrote in an e-mail on Monday. "And I was like 'What are you doing here?'"
Meanwhile, Wright quickly chased the ball down by the right-field stands. Except when he looked in to the field, he saw two baserunners at second base.
At this point, massive confusion set in for all involved.
Lyons took off for third base, with Barrett holding his ground at second. And then the best defensive player in baseball did something a little out of the ordinary.
Wright staggered forward, poised to make a throw, but not doing so until he'd taken 20 steps towards the infield (my colleague, John Totten, counted them with me). He then fired the ball to third base, where Steve Buechele was waiting and Lyons was racing to try to make something out of the situation.
Just before the ball (and Lyons) approached Buechele, it took a crazy bounce and skipped past him, and past anyone else who happened to be in the area. The ball ended up in the Rangers dugout.
What did that mean?
It meant that every baserunner was awarded two bases. An exhausted Lyons barely made it to home plate. After getting there, he had to be held on his feet by teammate Bob Stanley. "If we got doubled off ... I most likely never would have played again," Lyons said.
Meanwhile, Barrett trotted down the third-base line, arms raised in victory as if he'd just won the heavyweight championship of the world. The Red Sox had an absurd 5-4 victory.
And Valentine wandered around the field, dazed. Twenty-five years later, he still admitted to being totally stunned by what happened.
"Holy crow, what an ending!" exclaimed Red Sox announcer Ned Martin. (Yes, he said "crow.")
It wouldn't be the last of the unusual endings for either team that season. More on that in the coming weeks.
Mark Simon is the Baseball Research Specialist for ESPN Stats and Information. He thinks 1986 is the best baseball season ever. Follow Mark on Twitter @msimonespn and the Mets blog at ESPNNewYork.