A few years ago, during a conversation with a former major league manager in between tapings of "Baseball Tonight," the topic of my favorite baseball player came up.
"Oh, he's one of the good ones," said the manager after giving me the usual puzzled look I get when I tell people who that player was. The manager went on to explain that he didn't know my favorite player personally, but that he'd heard many positive things about him.
About Neil Allen
I thought about the player again on Tuesday. The transaction that has intrigued me the most this offseason isn't the signings of Pablo Sandoval Hanley Ramirez or Russell Martin, but the move announced on Nov. 25 -- that the Minnesota Twins had hired Neil Allen as their new pitching coach.
Allen, a former closer for the New York Mets, was my first childhood favorite. (I liked relief pitchers.) I had his rookie card made into a T-shirt decal and wore it to a baseball card show at which he appeared in the spring of 1983.
Allen was nice enough to engage an 8-year-old in conversation, and when he saw my shirt he promised me that he would pitch better. A couple of weeks later, Allen was traded to the Cardinals in one of the Mets' best deals. The move netted them All-Star first baseman Keith Hernandez.
Nonetheless, I remained loyal to Allen. He would pitch in the majors until 1989 with the Cardinals, Yankees, White Sox and Indians -- a decent (albeit not great) pitcher best known for a high leg kick and a big curveball.
I amassed a collection of Allen's baseball cards and photos and commissioned a watercolor painting of the image on his rookie card. In 2011, I interviewed him for a piece that reflected on his tenure with the Mets. He was extremely appreciative that someone would view his four-year stint with the team so favorably.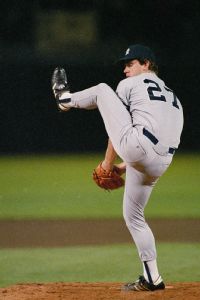 AP Photo/Sal Veder
During his 11-year MLB career, Allen was known for his high leg kick and big curveball.Allen is a baseball lifer who has persevered even through difficult personal circumstances. He is a recovering alcoholic and in 2012 his wife, Lisa, died of an aneurysm.
Other than a season spent as Yankees bullpen coach under Joe Torre in 2005, Allen has toiled in the minor leagues since 1995, working at every level from short-season A ball to Triple-A, where he spent the last four seasons with the Rays' affiliate, the Durham Bulls. Name a young pitcher who has succeeded with the Rays of late -- Alex Cobb, Chris Archer, Matt Moore, etc. -- and chances are Allen has worked with him.
Allen had a couple of major league near-misses along the way. He was rumored to be Mel Stottlemyre's replacement as Yankees pitching coach in 2005 and was a finalist to be Bobby Valentine's staff with the Red Sox in 2012.
Now, at age 56, Allen will finally get his chance. He replaces Rick Anderson, who was let go in September after 13 seasons with Minnesota. The Twins hired Allen to bring a fresh perspective. And he will: He comes from an organization whose major league team embraces the changeup like no other (Rays pitchers have thrown nearly 13,000 over the last three seasons) to one with a more traditional approach (Twins pitchers have thrown about half as many change ups over the same span).
But Allen should be flexible enough to work within the Twins' existing pitch-to-contact approach. He can speak from experience, having once thrown a two-hit shutout in 1986 against the Yankees in which he had no strikeouts and no walks.
Allen faces a challenging task, no doubt. The Twins have finished last in the AL in ERA in three of the last four seasons -- and they were next-to-last in the fourth year. They have four straight seasons of at least 92 losses.
Minnesota's projected 2015 rotation includes …
• Ricky Nolasco, who signed a four-year, $48 million contract last offseason, and had a 5.38 ERA in 27 starts while dealing with an elbow injury. Nolasco has a history of great strikeout-to-walk numbers, but his ERA has never been in line with those of a high-end control pitcher.
Twins MLB Ranks - Last 4 Seasons
• Mike Pelfrey, who has battled injuries and ineffectiveness during a two-year, 34-start tenure in which his ERA was 5.56. During his prime with the Mets, Pelfrey was a hard thrower who never found the second pitch that would elevate him to ace-level status. He's owed $5.5 million for 2015, so the Twins will be looking to get anything they can out of him.
• Kyle Gibson, whose six starts of at least seven innings and no runs allowed tied for the second-most in the majors (the same number as Clayton Kershaw) in 2014. Gibson has a good changeup and limited opponents to 12 home runs in 179 innings last season, but still finished with a 4.47 ERA.
Those three are among the pitchers whose potential the Twins have not yet maximized. "I've got to find a way to reach each individual," Allen said during a conference call on Tuesday, explaining his approach to working with pitchers.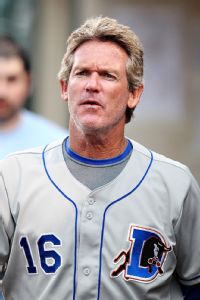 AP Photo/Mike Janes
Allen, 56, is finally getting a chance to impart his pitching wisdom in the big leagues. That personal approach is one of Allen's strengths, according to one of his star pupils. "Neil is the most positive person I've encountered in baseball," said Archer, now a starter for the Rays, in an e-mail. "Every day, whether you threw a gem or gave up 10 runs, he brought a smile and optimism to work. Since he had such a great big-league career, his knowledge of situational pitching helped propel my career."
It's not just current major leaguers who speak highly of his work. Ten-year minor-league vet Brian Baker pitched two seasons for Allen, including one in which he racked up a 6.62 ERA.
"He didn't care if you were a top prospect or an innings eater," Baker said via Twitter. "He treated everyone the same. Every day, he had a story from back in his playing days, ready to make you laugh. If you were having a (bad) day, he could make you forget about it. If you needed help on the mound, he was the guy who could fix it. He knew his stuff.
"He had pitching drills, little tweaks of mechanics, towel drills, different philosophies to get you going back in the right direction on the mound. And they always seemed to work for you. He wanted you to succeed and he did everything he could every day to help make that happen."
Now Allen will get the chance to help mold those mechanics at the highest level. I don't root for the Twins, but I'll be hoping that things work out well for him as he gets a shot at the big time.
After all, he's one of the good guys.