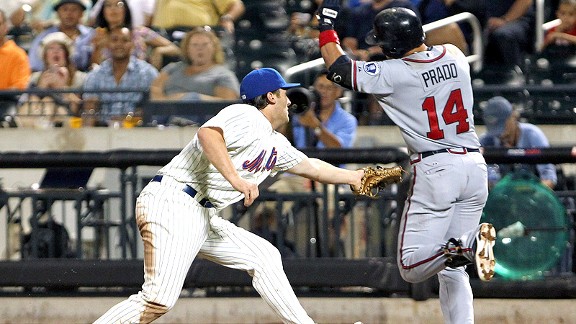 Anthony Gruppuso/US Presswire
Nick Evans' defensive skills could be of value down the road.
You probably didn't notice that the Pittsburgh Pirates recently signed first baseman and outfielder Nick Evans to a minor league contract within the past two weeks. There wasn't much reason to do so. Evans was nondescript with the bat, hitting .256 with four home runs and 25 RBIs for the Mets in 2011.
But Evans did something within his limited time that was significant to those of us trying to learn about advanced defensive stats. It struck me as being the defensive equivalent to hitting .400 over 150-or-so at-bats. In 337 2/3 innings, the equivalent of 37 ½ nine-inning games at first base, Evans finished with seven defensive runs saved. That's a good number for a first baseman. It tied him for most in the majors for the season with Angels first baseman Mark Trumbo.
It's also significantly better than what the Pirates got from their first basemen last season. Theirs ranked 28th in the majors, costing the team 11 runs.
Nick Evans (2011 Season)
Defensive runs saved for first basemen calculates the ability to turn batted balls into outs and the success at getting outs on bunts.
Evans scored well primarily because he did well handling the 46 balls that were hit into his "zone," with "zone" defined as the areas on the field in which first basemen turned batted balls into an out more than half of the time.
Evans' revised zone rating was 84.8% (of the 46 balls in his zone, he converted 39 into outs).
That rate was tied for fifth-best among the 46 first basemen that played at least 300 innings at the position.
It was within striking distance of MLB leader Todd Helton (85.9 percent) and considerably ahead of Evans' crosstown counterpart, Yankees first baseman Mark Teixeira (77.0 percent). For every 46 balls hit into his zone last season, Teixeira got 35 outs, four fewer than Evans did in his (admittedly small) sample.
The way that Baseball Info Solutions, which calculates a plus-minus rating for every fielder, looks at it, they divide batted balls into three areas for infielders -- balls hit to the left and right of the area where most outs are recorded, and balls hit directly where a first baseman most often records outs.
Evans was a plus-six on balls hit into the latter area, meaning he was six plays better than the average first baseman. That factored significantly into Evans' defensive runs saved rating, as did his defense on bunts, which was similarly above average.
Evans' success jibed with that which he'd had as a minor leaguer as well.
The researchers at Baseball Info Solutions, whose founder John Dewan came up with the defensive runs saved metric, acknowledge that the stat isn't necessarily the perfect measure of a first baseman's skills.
There are many other components to first base defense (a recent article in the blog "DRays Bay" attempted to put a value on each), the most recognizable to fans being the ability to handle throws from one's teammates.
So we dug a little deeper.
In addition to coming up with sabermetric stats, Baseball Info Solutions hires "video scouts" (for the most part, former high school and college players) to chart games from television viewing, tagging notable plays into more than 80 subcategories of "Good Fielding Plays" (GFPs) and "Defensive Misplays & Errors." (DM&Es)
Best Ratio- Good Plays/Misplays
MLB First Basemen
There are tightly defined rules, devised by sabermetrician Bill James, to what constitutes a GFP and a DM.
First basemen were credited with just over 2,000 Good Fielding Plays and just under 1,100 Defensive Misplays & Errors in 2011, the ratio of good to bad being about 1.9-to-1.
In his time at first base, Evans' ratio of GFPs to DMs was 24-to-5, or almost 5-to-1.
The reason for this was that in the eyes of multiple viewers (video scouts rotate so not to watch the same team or player too often), Evans was adept at a key aspect to his position not measured by Defensive Runs Saved or UZR/150- catching throws.
Evans was credited with 11 GFPs for "handling a difficult throw" (usually either by scooping it out of the dirt or coming off the base) in which the Mets got the batter out, and four GFPs for "catches wild throw," meaning that he prevented a batter or baserunner from gaining an extra base by coming off the bag to block/catch an errant throw.
Samples of Evans handiwork in this area can be seen at these three links.
Evans was tagged for only one DM&E for "failing to catch the throw" from a teammate. His ratio of good-to-bad plays was 15-to-1. By comparison, the average ratio for a first baseman on these plays was 5-to-1. Reds first baseman Joey Votto, who won the NL's Gold Glove, had 29 GFPs and 10 DM&Es related to handling throws.
We're not saying that Evans can maintain the sort of success from his small sample over a full season.
But for the Pirates, who also showed a defensive-minded commitment with the signing of shortstop Clint Barmes, it's an interesting sort of gamble that could be worth watching more closely as the 2012 season unfolds