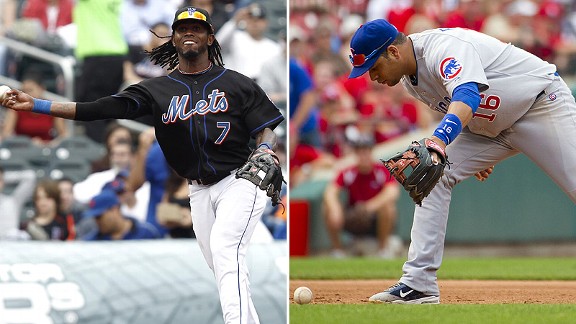 US Presswire/Mark Baer, Scott Rovak
Jose Reyes (left) and Aramis Ramirez (right) both rate poorly by advanced defensive metrics.
One of the interesting trends in this year's free agent market is that other than first baseman Albert Pujols, the players who are among the top performers offensively have defensive flaws statistically.
Case in point are the top-rated free agents on the left side of the infield, shortstop Jose Reyes and third baseman Aramis Ramirez.
Jose Reyes
Though Reyes is coming off the best offensive season of his career and one in which he became the first New York Mets player to lead the league in batting average, he had some defensive shortcomings in 2011.
Baseball Info Solutions uses a metric, Defensive Runs Saved to evaluate performance in the field, factoring in a players ability to turn batted balls into outs and other skills related to his position (in Reyes' case, turning double plays).
Keith Law's Top 5 Free Agents
Position Players
Reyes had -11 Defensive Runs Saved last year, the fifth-worst mark among all MLB shortstops and third-worst in NL. In the previous three years combined, he cost the Mets just three runs with his glove over nearly 3,000 innings.
There was a time when Reyes was a statistical standout defensively, but he hasn't had a positive Runs Saved rating since 2007.
Last year, what hurt Reyes was that he struggled on balls hit to the shortstop-third base hole. He made 18 fewer plays than the average shortstop on balls hit in that area. On all other balls hit to him, Reyes rated well above average in getting outs.
Reyes had eight throwing errors, surpassed only by Yuniesky Betancourt (16) and Starlin Castro (11) among NL shortstops. He also had four bad throws which were charted as Defensive Misplays by Baseball Info Solutions, which tied for third-most among NL shortstops.
-- Katie Sharp
Aramis Ramirez
While Ramirez is comparable to Adrian Beltre offensively, there is no comparison on the defensive end.
Adrian Beltre vs Aramis Ramirez
Average in Last 4 Seasons
Beltre, who turned 32 in April, got a five-year $80 million contract from the Rangers last offseason.
Will Ramirez, who turns 34 in June and opted out from big money in his final season with the Cubs, get anything close to that the same neighborhood?
If so, it will be from a team willing to overlook his statistics-based defensive issues.
In each of the last four seasons, Ramirez has posted a negative Defensive Runs Saved, with that metric showing that he has cost his team 35 runs in that span. That's third-worst among major league third basemen. Ramirez's plus-minus rating on ground balls showed him to be 54 bases below the average third baseman since 2008.
In addition to calculating Baseball Info Solutions does video review of every play, categorizing misplays by type. Ramirez doesn't fare well by that measurement either.
Ramirez had 48 Defensive Misplays and Errors, second in the majors among third basemen to Mark Reynolds.
That included nine throwing errors (tied for third-most among third basemen) and 18 balls that went through him or off his body, on which he was not charged an error, but a hitter reached base (most among third basemen).
--Mark Simon