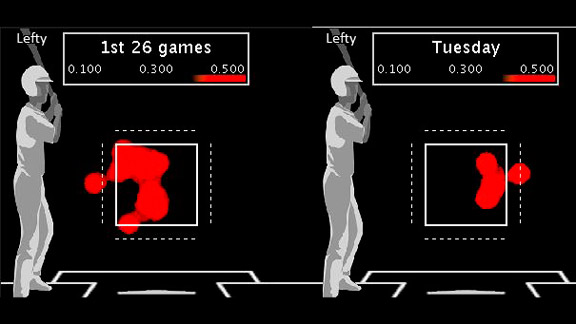 ESPN Stats & Information
Entering Tuesday's game, all 10 of Josh Hamilton's home runs this season were on pitches from the middle of the plate in. Against the Orioles, all four of his record-tying homers came on pitches on the outer third or away.Josh Hamilton became the 16th player in major-league history to hit four home runs in a game as the Texas Rangers beat the Baltimore Orioles 10-3.
4 HR in A Game - AL History
The first quarter of the 2012 MLB season has been a good one for historians, with Hamilton's four-homer game and Philip Humber's perfect game. This is the first year in MLB history when there has been a perfect game and four-homer game in the season.
Hamilton became the first American League player to go 5-for-5 with four home runs. His 18 total bases are an AL record, surpassing the previous mark of 16 that was done eight times. He fell one base short of Shawn Green's major-league record of 19 during his four-homer game in 2002.
Hamilton and Matt Kemp each have at least 12 home runs within their team's first 30 games. It is the first time since 2006 that at least two players did that in the same season. In the 13 seasons from 1994 to 2006, it happened in nine seasons. Prior to that, it hadn't happened since 1971, when Hank Aaron and Willie Stargell both pulled it off.
With 14 home runs in the Rangers' first 30 games, Hamilton broke the franchise record for homers at this point in the season. Frank Howard hit 12 home runs in the first 30 games in 1968, when the franchise was still the Washington Senators. Since the franchise moved to Texas in 1972, no other player had hit more than 11 homers in the team's first 30 games.
Most HR in 1st 30 Team Games
Texas Rangers Franchise History
Hamilton is already more than halfway to his total of 25 home runs from last season. His third-inning home run was his first of the season to the opposite field. He had 13 opposite-field home runs over the previous three seasons.
All four of Hamilton's homers came with Elvis Andrus on base, netting a total of eight RBI for the game. That is tied for the third-most RBI in a four-homer game, trailing Mark Whiten's 12 in 1993 and Gil Hodges' nine in 1950.
It is often said that baseball's glamor position is centerfield, and the best hitters bat third in the order. During the live-ball era (since 1920), only two players have been 4-for-4 or better with three homers and four extra-base hits while playing center and batting third. Hamilton joins Ty Cobb, who went 6-for-6 with three home runs and a double on May 5, 1925.
Around the diamond
• Before he left the game with left hamstring tightness, Will Middlebrooks became the second player since 1900 with an extra-base hit in each of his first five career games. Elias reports that Enos Slaughter also had a five-game streak to start his career in 1938.
• Andrew McCutchen hit his first home run of the season in his 95th at-bat. Last season he had five home runs at the same point in the season.
• Curtis Granderson has reached base in 28 consecutive games, the longest streak in the majors this season. He extended the streak today against James Shields. Granderson entered the game 3-for-46 against Shields; according to Elias, that .065 average was the lowest career mark in any batter-pitcher matchup between active players (minimum 35 at-bats).