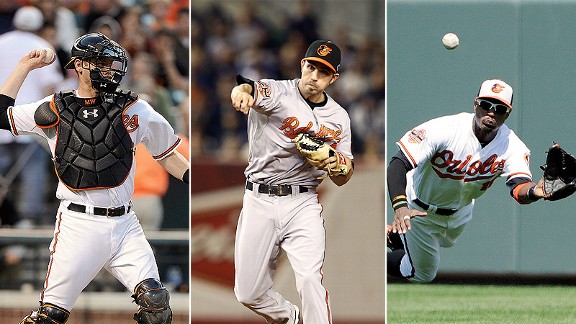 Getty Images
Matt Wieters, J.J. Hardy and Adam Jones were rewarded for their defensive prowess this season.
The Baltimore Orioles returned to winning in 2012 and they returned to their successful past in putting a trio of players on the Gold Glove winners list.
AL Gold Glove Winners
The Orioles had three victors in 2012- catcher Matt Wieters, shortstop J.J. Hardy and centerfielder Adam Jones.
Wieters and Jones each won for the second time in their careers.
Hardy won his first award and became the first Orioles shortstop to win the award since Cal Ripken Jr. in 1992. Of the three, he put up the best defensive numbers-- he finished second to Brendan Ryan of the Seattle Mariners among AL shortstops in Defensive Runs Saved and was finished first in fielding percentage.
Wieters threw out 36 percent of baserunners attempting to steal, second-best in the AL.
Jones didn't fare well in the advanced defensive metrics, but led all outfielders in putouts by a wide margin. His 439 were 56 more than the man with second-most, Michael Bourn.
The Orioles of the 1960s and 1970s, with the likes of Brooks Robinson and Paul Blair, used to regularly put three or more players on the Gold Glove squad.
Last year's team had two (Wieters and Nick Markakis), but this marked the first time Baltimore had three winners in the same season since 1998, when Mike Mussina, Rafael Palmeiro and Roberto Alomar won.
All-Yankees right side of the infield
For the third straight year, the AL winners on the right side of the infield came from the same team. For the second time, that combo was New York Yankees first baseman Mark Teixeira and second baseman Robinson Cano.
For Teixeira, who led major-league first basemen with 17 Defensive Runs Saved, it was his fifth Gold Glove Award. He previously won in 2005, 2006, 2009 and 2010. Teixeira is the eighth player to win at least five Gold Glove Awards at first base.
Cano joined Bobby Richardson, who won five times, as the only Yankees second basemen to win multiple Gold Glove Awards (the Gold Gloves have been awarded since 1957).
Other Winners
Notes and nuggets on the other Gold Glove winners …
Most Defensive Runs Saved
AL Players by Position
The vote for pitcher finished tied for the first time. Both Jake Peavy and Jeremy Hellickson won their first career Gold Glove Awards.
Peavy's win extended a streak of four straight years that a Chicago White Sox pitcher won. Mark Buehrle won it the previous three years. Hellickson became the first pitcher in Rays history to win one.
Texas Rangers third baseman Adrian Beltre won his fourth Gold Glove and second straight. He and Buddy Bell are the only Rangers third basemen to win the award.
Both of the corner outfielder selections led their respective positions in Defensive Runs Saved.
Kansas City Royals leftfielder Alex Gordon did so by a wide margin with 24, which helped him win for the second straight season. Gordon's stats were helped by his 17 assists, most by an AL leftfielder.
Oakland Athletics rightfielder Josh Reddick led those at his position with 22 Defensive Runs Saved and tied for second with 14 outfield assists. He's the first Athletics outfielder to win a Gold Glove since Dwayne Murphy in 1985.