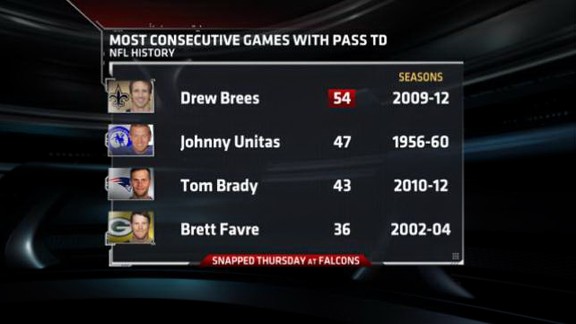 New Orleans Saints quarterback Drew Brees has had a lot to enjoy from past games against the Atlanta Falcons, winning 11 of his first 13 meetings, and setting the single-season pass yardage mark against them last season. But Thursday night was anything but enjoyable. Let's review his performance and the Saints' defeat.
The history
In addition to having his record touchdown streak come to an end (as noted in the image atop this article), Brees matched a couple of ignominious marks.
He became the first quarterback in Saints history with a no-touchdown/five-interception game and the first quarterback to have such a game against the Falcons.
His five interceptions tied a Saints record for interceptions in a regular-season game. Peyton Manning's father, Archie Manning, set the mark with five against the Falcons in 1973 and then matched it in 1979 against the Los Angeles Rams.
Brees' five interceptions tie a record for most in a game against the Falcons, shared with Bob Berry (1966 Minnesota Vikings), Manning and Jim Hart (1980 St. Louis Cardinals).
Brees is the third quarterback in the Super Bowl era to throw for at least 325 yards, with no touchdowns and at least five interceptions in a game. The other two were Joe Namath (1968 New York Jets) and Mark Brunell (1996 Jacksonville Jaguars).
Brees was the most notable player to have a streak come to an end in this game. But another continued a streak.
Falcons tight end Tony Gonzalez reached 70 catches for the 13th time in his career. He matches Jerry Rice for the NFL record for most seasons with at least 70 receptions.
Gonzalez also scored his 102nd career NFL touchdown, passing Steve Largent for 18th-most in NFL history.
How the Falcons won
There were two keys to this Falcons victory. One was the defensive work against Brees. The other was what Atlanta was able to do on the ground.
The Falcons set the tone for this game by scoring on their first drive. Their 26 touchdowns on opening drives are the most by any team over the last five seasons.
Atlanta ran the ball inside repeatedly and the Saints could do little to stop it. Running backs Michael Turner and Jacquizz Rodgers had seven rushes between the tackles for 95 yards in the opening quarter. Six of their seven first-quarter runs between the tackles went for first downs.
The Falcons gained 122 of their 126 total rushing yards (not counting kneels) between the tackles.
Brees' biggest struggle
Brees typically fares very well on play-action passes, but on Thursday, he had all sorts of issues.
4 Multiple-Interception Games
2012 Season
Three of his five interceptions came on play-action passes. He completed 5-for-11 for 42 yards.
Entering the day, Brees had completed 62 percent of his play-action throws, with 10 touchdowns and only two interceptions.
Also of note: Brees was 2-for-6 on throws that traveled more than 30 yards in the air. He had two interceptions on those passes, both of which came on balls that were judged by video review to be underthrown.
Those were Brees' first passes of that length all season judged to be underthrown. He entered with the most completions on 30-plus yard passes (10) of anyone in the NFL.
It was part of a day in which Brees finished with a Total QBR of 23.4, his second-worst Total QBR in a game in the last five seasons.
What's next for Brees and the Saints?
The last time Brees threw no touchdowns in a game was Oct. 4, 2009 against the New York Jets. It was actually the second straight game that Brees went touchdown-less. He had none against the Buffalo Bills the week before.
But the next game after the Jets game was a good one -- 369 yards and four touchdowns in a win over the New York Giants.
The Saints need wins and likely some help to make the playoffs. They've started 5-7 and made the playoffs once before, in 1990. That team is one of five since 1990 to lose seven or more of its first 12 games and make the postseason.
Elias Sports Bureau Stat of the Game
Matt Ryan set the Falcons record for most passing yards in a calendar month. His 1,572 in November broke Steve Bartkowski's franchise record of 1,494, which had stood since November 1981.