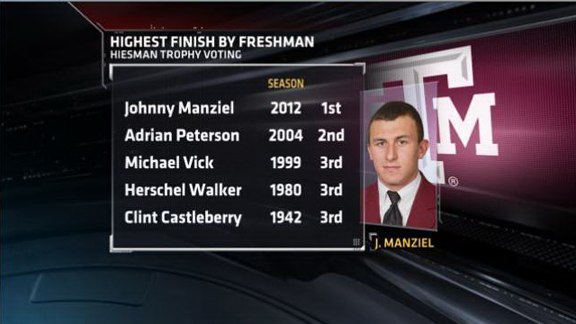 Texas A&M freshman Johnny Manziel edged out Notre Dame's Manti Te'o for college football's top individual prize.
Let's take a look at the most noteworthy statistical nuggets related to Manziel's winning the award.
The History
Manziel is the first freshman to win the Heisman Trophy. The previous best finish by a freshman was Adrian Peterson, who was runner-up to Matt Leinart in 2004.
At age 20, Manziel is the second-youngest player to win the award, trailing only 19-year-old Mark Ingram.
Youngest Heisman Winners
Age on Day Award Announced
Manziel is the second player from Texas A&M to win the award, joining John David Crow, who won it in 1957.
The 55-year gap between Heisman winners is the longest for any school, surpassing the 51-year gap the Michigan Wolverines had from 1940 to 1991.
Manziel is only the fifth player in the history of the school to finish in the top 10 of the voting.
Manziel is the sixth player to win the Heisman Trophy in his head coach's first season at the school, the first since Ricky Williams won one for Texas and Mack Brown in 1998.
The SEC continues to be dominant both in terms of Heisman trophies and national titles. Since 2006, the conference has won six BCS championships and four Heismans.
Season In Review
Manziel set the SEC record for total yards in a single season with 4,600, breaking Cam Newton's mark of 4,327 set in 2010.
Won Heisman, Did Not Play in BCS
Since BCS Games Began in 1998
He became the fifth player in FBS history to have 3,000 yards passing and 1,000 yards rushing in the same season, the third player to do this in the past three seasons (along with Colin Kaepernick and Chandler Harnish).
Manziel was responsible for 43 touchdowns this season (he had 24 touchdown passes and 19 touchdown runs), tied with Tajh Boyd and Jordan Lynch for the most in FBS.
He had six games this season with multiple passing AND rushing touchdowns, tied with Tim Tebow (Florida, 2007) for the most such games in a season since 2000.
Manziel was responsible for much of Texas A&M's success this season because of his performance on third down. He averaged 9.6 yards per play on third down, best in FBS by a wide margin (Stephen Morris ranked second with 8.1). His 8.6 yards per third-down run ranked second in FBS to Adam Muema of San Diego State.
Manziel gained 784 yards on scrambles, the most in the SEC. He had 13 scrambles (including seven touchdowns) of at least 20 yards. No SEC player had more total rushes or touchdowns of 20 yards, let alone scrambles.
Did you know?
Manziel is the third player who wore No. 2 to win the Heisman, joining Charles Woodson, who won in 1997 and Newton, who won in 2010.