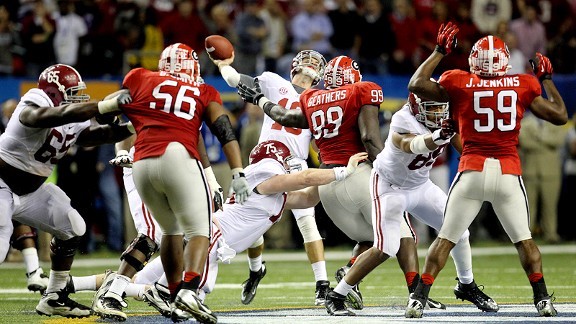 Daniel Shirey/USA TODAY Sports
It was appropriate that this throw was the decisive one for Alabama in its SEC-title win.AJ McCarron and his Alabama Crimson Tide teammates broke the huddle with a fresh set of downs after T.J. Yeldon's 5-yard run on third-and-5 kept the drive alive against the Georgia Bulldogs in the SEC Championship.
With 3:40 remaining and facing a 3-point deficit, Alabama lined up at Georgia's 45 with two tight ends on the line and two wide receivers set to the same side. It was the same formation the Crimson Tide had used on 20 of their 22 plays after Georgia took an 11-point lead with 6:31 remaining in the third quarter.
AJ McCarron Play-Action Passing
Last 2 Seasons
Twenty of those 22 plays were runs that gained 167 yards and two touchdowns, including Yeldon's drive-sustaining run.
Georgia lined up defensively with one deep safety on this play, leaving one-on-one coverage on the outside for Amari Cooper.
When McCarron took the snap, he faked a handoff to Yeldon, looked left and threw the ball 43 yards in the air to Cooper, who went untouched into the end zone for the game-winning touchdown.
It was McCarron's 11th touchdown pass off play-action this season and his ninth such touchdown on first down. In 2011, McCarron had a total of five touchdowns off play-action.
Alabama's running game has set up McCarron all season. He leads FBS in pass efficiency (173.1), and play action has been the key.
McCarron completes nearly 70 percent of his passes thrown after a run fake and is averaging an SEC-best 11.9 yards per attempt. He has not thrown an interception off play-action in 130 attempts, with his last one coming in last season's loss to LSU.
A.J. McCarron Throws of 20+ Yards
2012 Season
McCarron's average throw after a run fake travels 11.7 yards downfield, and he completes 76 percent of his deep throws that are set up by play-action. On such passes, he has eight touchdowns and no interceptions in 21 attempts.
As he was against Georgia, Cooper has been McCarron's favorite target on those downfield throws, catching 11 of 14 passes thrown 20 yards or longer when he was the target. Eight of those receptions were off play-action, including four touchdowns.
McCarron will face a Notre Dame Fighting Irish team in the BCS Championship Game that leads the nation in scoring defense (10.3 PPG).
The Irish have given up two touchdown passes on play-action all season, tied for third fewest against an AQ team, and one touchdown on a pass thrown 20 yards or more.
On paper, it will be the biggest test that McCarron has faced this season. A passing grade could give McCarron his second straight BCS Championship, something no quarterback has accomplished.