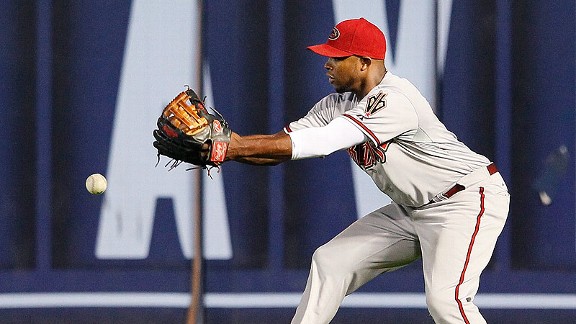 Kevin CoxGetty Images
Justin Upton gets to a lot of balls, but doesn't always handle everything he tries to field.Each week Stats & Info does a thorough review of MLB moves. This week's focuses on
Justin Upton and his defensive success/struggles.
Over the past four seasons, new Braves outfielder Justin Upton has been valued at 13 Wins Above Replacement, a total that ranks tied for 40th among position players and tied for 15th-best among those who played at least half their games in the outfield.
Upton would have rated higher had he not been hindered considerably by one aspect of his game-- his defense.
On the surface, that sounds odd, particularly given that scouts view Upton's defense favorably.
But let's take a closer look at the stats, with the help of Baseball Info Solutions, which does video-tracking of every play in every game.
Advanced defensive metrics have multiple components.
For an outfielder, they involve calculating how often a fielder turns a batted ball into an out, based on where the ball was hit and how long it was in the air. They also factor in the ability of the outfielder to deter baserunners from advancing extra bases.
Lastly, via a coordinated system devised by Bill James, they compute a player's value based on his skill at making Good Fielding Plays (these are things such as robbing a home run, and cutting off a ball in the gap or down the line) and avoiding Defensive Misplays & Errors (these are both plays scored as errors and other misplays not scored as errors, such as overthrowing a cutoff man or slipping in the outfield).
Turning batted balls into outs: Among the best
Over the last four seasons, Upton has rated among the best of the best in turning batted balls into outs. He recorded 332 putouts on balls hit outside of the areas on the field in which batted balls are turned into outs less than 50 percent of the time.
Most Out of Zone Plays
RF Last 4 Seasons
These are known as "Out of Zone" plays and Upton had more in that span than any rightfielder in baseball.
Since 2009, Upton has received credit for 43 Defensive Runs Saved for his ability to turn batted balls into outs , second-best among rightfielders to new teammate Jason Heyward's 61.
However, Upton has lost more than 60 percent of that value for his issues in other areas.
Deterring baserunners: Among the worst
Upton was debited 14 runs in that span related to his deterrent value at preventing baserunner advancement on balls he fielded.
Upton rarely throws out baserunners and that hurts him most in this metric. He averaged an assist every 309 innings, second-worst among those who have played at least 2,000 innings in right field since 2009. His seven throwing errors rank tied for most in the majors.
And his rate of preventing baserunners from going first to third, second to home, or first to home, is major-league average, so thus that offers him no statistical help.
Good Plays/Misplays & Errors: The worst
Video review does not treat Upton kindly.
Justin Upton
Most Common Misplays/Errors
In the last four seasons, BIS' video scouts have given Upton credit for 71 Good Fielding Plays, but a worst-among-rightfielders 158 Defensive Misplays & Errors.
A solid rating in that stat would be about one good play for every misplay & error. An average fielder had about 1.2 misplays & errors for every good play.
Upton's rate? 2.2 misplays & errors per good play.
Among the 26 rightfielders with 2,000 innings, only J.D. Drew ranks worse. And he's retired.
Upton is debited 13 Defensive Runs Saved for his abundance of mistakes, most notably those detailed in the chart on the right.
Conclusion: Positive value … but could be much more
The net result of this statistical analysis is that Upton finished this four-season span with 16 Defensive Runs Saved.
But if he'd been just average with regards to his Good Fielding Plays and baserunner deterrence (two who were: Nick Swisher and Ryan Ludwick), he'd have added another 27 runs (or nearly 3.0 WAR) to his defensive value.
That's the difference between being considered a very good player (Upton's 13 WAR since 2009 matches Carlos Gonzalez) to being considered among the elite (add in 2.7 WAR and Upton's total would tie Josh Hamilton for 24th-best).