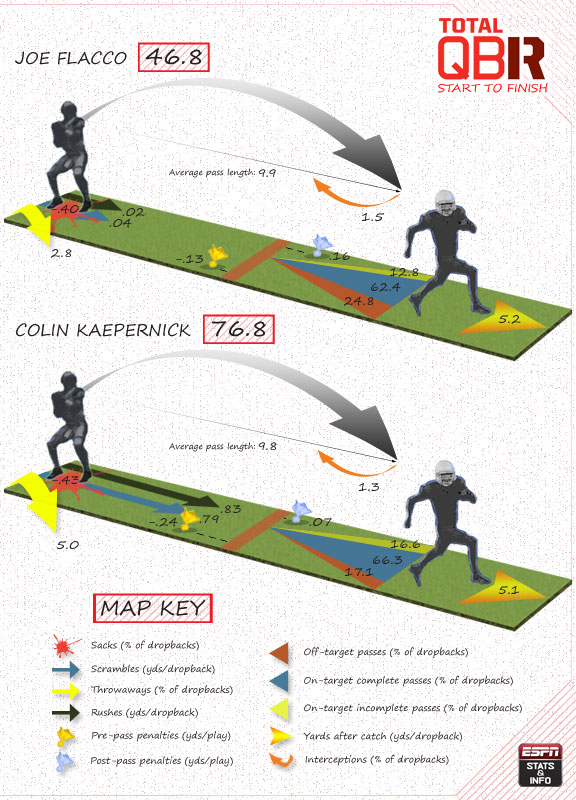 ESPN Stats & Information
A comparison of Colin Kaepernick and Joe Flacco through the lens of Total QBR.Total QBR was developed to capture a lot about a quarterback's play, from avoiding sacks to scrambling and penalties, on top of all the things they do as a passer.
The above infographic is one way of capturing a lot of those elements for the two Super Bowl quarterbacks, San Francisco 49ers' Colin Kaepernick and Baltimore Ravens' Joe Flacco.
Using regular season numbers, the graphic makes a few clear distinctions about their general style. Not surprisingly, Kaepernick makes more of a difference on runs and scrambles than does Flacco.
The black and blue arrows behind the line of scrimmage are almost non-existent for Flacco and huge for Kaepernick. The red splat mark indicates sacks for the two quarterbacks and both have surprisingly lost about the same number of yards per dropback on sacks.
The yellow arrow represents how often they threw the ball away -- Kaepernick threw it away at one of the highest rates in the league. These are essentially zero-yard sacks, but with less contact, that can be an important play for a quarterback.
The yellow flag behind the line of scrimmage is much farther behind it for Kaepernick, who has had problems getting plays off on time. Flacco has earned more post-pass penalties, as represented by his blue flag beyond the line of scrimmage being farther downfield than Kaepernick's.
The downfield portion of the graphic illustrates how accurate the quarterbacks were this season. The magnitude of the red region represents how often they were off-target; the yellow region represents how often they were on-target but just incomplete; the blue regions represent how often they were on-target and complete.
As shown in the graphic, interceptions and yards after catch were pretty even for both guys, but overall Kaepernick was much more accurate than Flacco.
This all adds up to the dramatically different Total QBR values depicted next to their names. Kaepernick ranked third in the NFL and Flacco ranked 25th during the regular season.