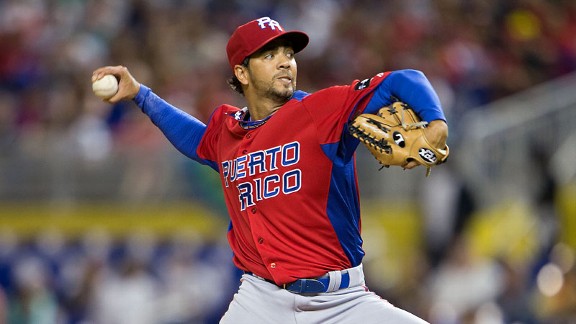 Tom DiPace/WBCI/MLB Photos/Getty Images
Nelson Figueroa was in control on Friday night.
The last time Nelson Figueroa won a major-league start was October 3, 2010 as a member of the Houston Astros against the Chicago Cubs.
Figueroa's line in Friday's win that sent Puerto Rico to the semifinals and knocked out the United States, shared a similarity with that game- six innings, no runs allowed.
How did Figueroa, who did not pitch in the majors last season, stymie the United States hitters?
Here are a few key points.
• He threw 57 of 82 pitches for strikes (70 percent). That's a better strike rate than he had in any of his 16 starts in 2010 or 2011. He threw 59 percent of pitches for strikes in eight appearances two seasons ago.
• He got eight outs on the ground, and three outs in the air. That's a contrast to how he typically gets outs. Over the last two seasons, Figueroa's groundouts-air outs ratio is just below a 50-50 split.
• He retired the leadoff hitter in five of the six innings. That's something Figueroa has done well throughout his career. Opponents have a .288 on-base percentage leading off an inning against Figueroa since his major-league career began in 2000. That's 36 points below the major-league average.
• Figueroa had a very effective slider. He allowed both hits against the pitch, but got 11 outs with it (including Ryan Braun's first-inning double play).
Figueroa had difficulty retiring hitters with the slider in his last MLB season. Opponents had a .395 OBP against it in his eight appearances