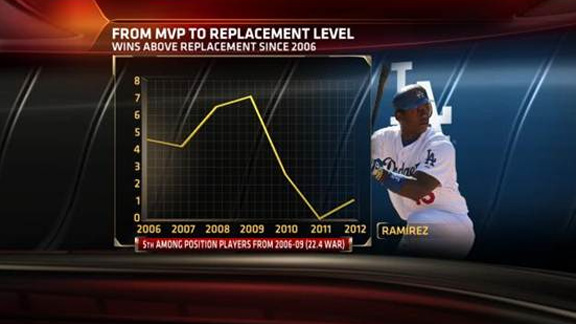 Fresh off prized free agent acquisition Zack Greinke dealing with elbow pain, the Los Angeles Dodgers will now be without starting shortstop Hanley Ramirez for approximately eight weeks after he has surgery to repair ligaments in his right thumb on Friday.
Although he still boasts significant name recognition -- and was acquired with the intention of being an impact player for the Dodgers -- Ramirez has been a far cry from the MVP candidate he was just four years ago.
From 2006-10, Ramirez hit .313 (including a National-League leading .342 in 2009), averaged 25 home runs, 39 stolen bases with a .906 OPS.
Notable Ramirez Replacements
Dodgers Entering 2013 Season
But over the last two seasons, Ramirez has hit just above .250, averaged fewer than 20 home runs and saw his OPS drop to .742.
Ramirez is still owed $31.5 million over the next two seasons.
The graphic atop this article shows Ramirez's decline in Wins Above Replacement over the last several seasons.
Ramirez's potential replacement scenarios involve some combination of Luis Cruz, Nick Punto, Jerry Hairston Jr, Dee Gordon and Juan Uribe.
What does each bring to the table?
Luis Cruz
Cruz was worth 2.2 Wins Above Replacement last season. A good chunk of that value came from how he impressed defensively (at least statistically) at third base. Despite playing only 427 innings at the position, Cruz ranked fifth among third basemen with eight Defensive Runs Saved. His strength in that regard was turning batted balls into outs.
Of the 90 balls hit into his "zone" (areas in which third basemen turn balls into outs at least 50 percent of the time), Cruz turned 75 into outs. His .833 Revised Zone Rating was the best of anyone who played at least as many innings as he did.
Hairston also brings defensive value. Last April, the Sweet Spot blog wrote him up for being the game's top defender that month.
Hairston also rates as a careful hitter. He posted a .343 on-base percentage over the last two seasons (23 points above the major-league average). He missed on 14.5 percent of his swings in that span, well below the major-league average of 21.5 percent.
Nick Punto
Punto brings similar skills to Hairston. His miss rate over the last four seasons is just 13.6 percent and his on-base percentage in that span is .336.
Punto walked in nearly 13 percent of his plate appearances over the past four seasons, a rate that ranks 22nd among the 293 players with at least 1,000 plate appearances in that span. His weakness is a lack of power.
The difference between him and Hairston is Punto's lack of power. His .309 slugging percentage since 2009 is fourth-worst among those 293.
Dee Gordon
Gordon, currently dealing with an ankle sprain, is the speediest of the Dodgers options. He stole 32 bases last season, but his statistical shortcoming (an inability to reach base) prevents him from fully showcasing that talent.
The biggest issue Gordon has to overcome is twofold. He has a tendency to look at strikes (40 percent of pitches he took last season were called strikes-- the third-highest rate in the majors) and chase balls (he swung at 35 percent of pitches out of the strike zone, six percentage points higher than major-league average).
Juan Uribe
Uribe is in the last year of a three-year, $21 million deal, the first two of which, statistically-speaking, have been terrible.
Uribe's .552 OPS over the last two seasons ranks third-worst among those with at least 400 plate appearances.
When Uribe was going good in 2009 and 2010, he hit for power (34 home runs). He was also useful as a right-handed hitter who could hit right-handed pitching. His .484 slugging percentage against righties ranked in the top 20 percent of right-handed hitters.