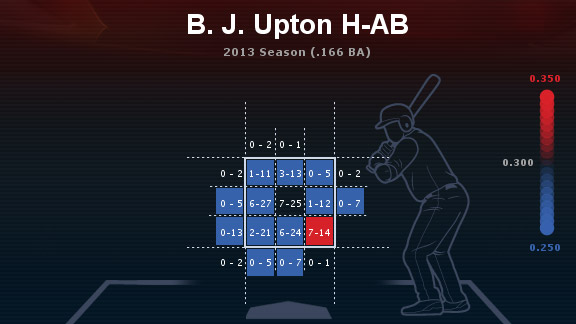 The Giants learned Saturday where B.J. Upton's hot zone is.
Five stats you'll likely hear quite a bit more about on the matchup between the San Francisco Giants and Atlanta Braves at 8 p.m. ET (ESPN/WatchESPN):
1-- Braves pitchers have a 2.40 ERA at home this season, which ranks best in the National League and if maintained through the full season would be the team's lowest since the Braves moved to Atlanta in 1966.
Braves starter Julio Teheran has a 2.97 ERA at home, much better than his 4.12 ERA on the road. The biggest difference for him in his home/road splits is his home run rate (three homers allowed in 33 1/3 innings at home, 7 in 43 2/3 innings on the road).
2-- Giants starter Tim Lincecum turned 29 on Saturday.
Lincecum is part of a group of Giants starting pitchers having significant issues on the road. Lincecum has a 5.40 ERA away from AT&T Park this season. Giants starters have a 5.62 road ERA and are allowing opponents to hit .350 on the road with runners in scoring position.
Elias also noted that Lincecum has the second-most strikeouts of any Giants pitcher prior to turning 29 (1,395), trailing only Christy Mathewson's 1,738.
Lincecum beat the Braves on Mother's Day, and now tries to do it on Father's Day. Only one starting pitcher over the last 50 years beat the same team on Mother's Day and Father's Day in the same year: the Braves' John Burkett beat the Phillies on May 14 and June 18, 2000.
3-- Maybe Saturday will be what B.J. Upton needs to come out of his season-long slump. Upton hit a pair of home runs in the Braves' win. Each homer came on a pitch in his sweet spot- knee-high on the inside corner.
The heat map above shows that to be Upton's one "hot zone" this season. Dating back to the start of the 2011 season, he has a .439 batting average on pitches to that "square" within the strike zone. That's about 140 points above the major-league average.
4--Hunter Pence is in the middle of a hot streak for the Giants. He's 12-for-30 with two homers and eight RBI in his last seven games, pushing his season slashline to .298/.343/.517.
Hunter Pence vs Outer-Half Pitches
The early jump for Pence's numbers this season is attributable to something that Pence had success with in 2011—hitting the outside pitch.
The chart on the right shows Pence's numbers in at-bats that ended with a pitch on the outer-half of the plate or off the outside corner, with the key difference being an increase in extra-base hits.
5-- Should the Braves need a late-game weapon, they can hope for Evan Gattis to get a shot at getting a tying or winning hit. Gattis entered Saturday night tied for the major-league lead in home runs in the seventh inning or later with six. Each of the three players he was tied with has at least 20 more at-bats in those situations than Gattis does.
Mark Simon also contributed to this post