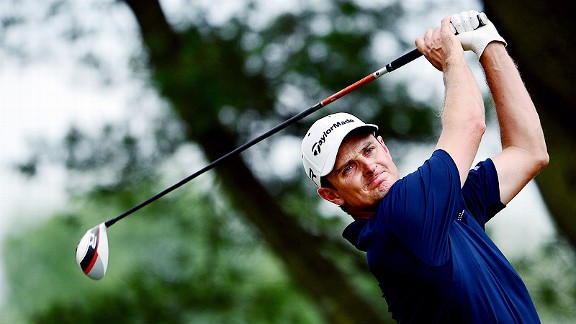 David Cannon/Getty Images
Justin Rose came through with a host of big shots on Sunday.
Phil Mickelson came oh-so-close to ending his U.S. Open drought on Sunday, but could not finish off the lead he built on the first three days.
Instead it was Justin Rose winning as the best of the field against an extremely tough course at Merion.
Here's a run-through of all the statistical storylines.
Sweet for Rose
Rose finished the tournament at one shot over par, making this the second straight year that a U.S. Open champ finished over par (Webb Simpson did last year). From 2009 to 2011, there were no instances of a major winner finishing over par.
U.S. Open Winners At Merion
He's the first Englishman to win a major since Nick Faldo won the 1996 Masters and the first to win a U.S. Open since Tony Jacklin in 1970.
Since 14-time major winner Tiger Woods last won one at the 2008 U.S. Open, there have been 14 first-time major winners, including Rose.
Rose is the third straight top-10 player to win a major, joining Rory McIlroy and Adam Scott. It's only the third time since world rankings have been in existence that three different players in thetop 10 won three straight majors (1988, 1993).
Rose made five birdies in the final round on the way to the win. He's the first U.S. Open champ to make that many since Angel Cabrera in 2007.
The money holes for Rose were the seventh through 13th. He had nine birdies and a bogey on those holes and his -8 score was tied for the best on these holes with Luke Donald.
Always the bridesmaid
This marked the sixth time that Mickelson finished runner-up at the U.S. Open, the most of any golfer. It is Mickelson's eight career runner-up finish at a major, tied for the third-most all-time. Only Jack Nicklaus (19) and Arnold Palmer (10) have more.
Mickelson's 37 putts on Sunday were the most of any golfer on the course for the day.
Tiger's worst round
Woods finished 13-over and tied for 32nd. His score to par was his worst at a major as a professional golfer.
Woods had 21 holes in which he shot a bogey or worse, his most-ever at a major as a pro and his second-most in any PGA Tour event.
This comes after Woods shot an 8-over at the Memorial. It's the first time since 1997 that he shot 5-over or worse in back-to-back tournaments.
Day-O!
Jason Day now has three runner-up finishes (2011 Masters, 2011 U.S. Open; 2013 U.S. Open) and a third-place finish (2013 Masters) in the last 10 majors.
Stricker's struggles
Steve Stricker entered the final round even par, one shot back. He finished with a 6-over 76. It's the fourth time he has entered the final round of the U.S. Open in the Top 5. He has shot 3-over or worse in the final round each time.