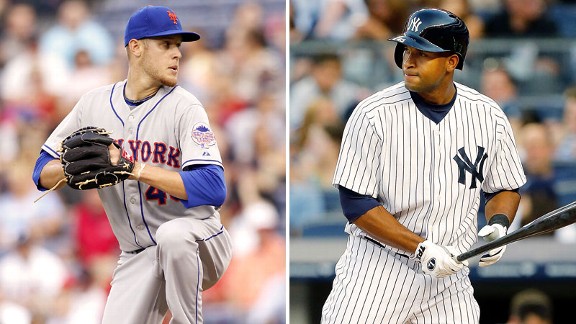 USA TODAY Sports/Getty Images
Zack Wheeler and Zoilo Almonte have had nice starts to their careers.Theme of the Week: Good week for the Zs
This was a good statistical week for players with a name starting with the letter Z.
Zoilo Almonte made his first career start for the Yankees on Friday and had three hits, including a homer. He's the first Yankees player to have three hits in a game within his first three games since D'Angelo Jimenez in 1999 and the second in Yankees history to have a game with three hits, including a homer, that quickly (joining Oscar Azocar, 1990).
Saturday, Almonte had a two-run single and a bases-loaded walk for three more RBI. Sixteen previous Yankees had a three-RBI day within their first four games, but only two other than Almonte did it without an extra-base hit (Cliff Mapes being the last in 1948).
Almonte wound up the third Yankees player with four RBI and four hits within his first two starts. Elias tells us the other two are an odd pair- Lou Gehrig and Brian Dayett.
On the pitching side, Zack Wheeler pitched six scoreless innings in his major-league debut to beat the Braves. Only three Mets have thrown six scoreless innings in a major-league debut— Dick Rusteck in 1966 and Masato Yoshii in 1998 are the other two.
Lastly, we feel we should give props to one other Z, Diamondbacks reliever Brad Ziegler, who notched the highest score on Jayson Stark's MLB Rules Quiz earlier this week.
Other Highlights From The Week
Feat of the Week: The Unbeatens
Max Scherzer of the Tigers ran his season record to 10-0 on Monday, the first Detroit pitcher to start a season 10-0 since Aurelio Lopez got 10 relief victories during the 1984 championship season. He got to 11-0 on Saturday, the first Tigers pitcher to do so since George Mullin in 1909.
And the Diamondbacks' Patrick Corbin didn't lose Saturday, so in his next start Thursday, he'll try to become the first Arizona pitcher ever to win 10 straight within a single season, and the first left-handed starter to win his first 10 decisions of a season since Ron Guidry of the 1978 Yankees.
What's in a (ballpark) name?
Esmil Rogers recorded his third win of the season when he pitched into the seventh inning against the Colorado Rockies on Tuesday. It was Rogers' first victory in his new home stadium... Rogers Centre in Toronto.
In this age of corporate naming rights, very few stadiums still bear an actual family name as their moniker. A handful of position players have shared their name with their home ballpark. Most recently catcher Damian Miller spent three years with the Brewers and played all his home games at Miller Park. But going all the way back, there have been very few common names attached to stadiums. Even Wrigley, Comiskey, Fenway, Crosley, Ebbets, Connie Mack Stadium, etc., were named for owners and/or managers.
Based on what we can tell, going back to 1900 Rogers appears to be the first pitcher to earn a HOME win in a stadium that shares his surname.
Lots of strikeouts doesn't necessarily mean a win
Mat Latos struck out nine Pirates in his start Tuesday, but was lifted after five innings, three runs, and 88 pitches. The bullpen pitched the remaining four innings and racked up eight more strikeouts for a total of 17.
That was one shy of the season high for any team in a nine-inning game, and it was the first time the Reds struck out 17 opponents since May 6 of last season... also against Pittsburgh. Despite all the whiffs, the Reds themselves managed only four hits and no runs, and lost the game 4-0.
The Reds have lost two games this season where their pitching staff struck out 17 or more opposing batters. The other game was Opening Day, a 13-inning loss to the Angels. Only six teams in the live-ball era have lost multiple 17-strikeout games of any length, in a season (the 2011 Athletics also did it).
Meanwhile, the Pirates hadn't won a nine-inning game where they struck out 17 or more times on offense since July 21, 1997. That was a 3-2 victory at Philadelphia behind a pair of homers. Prior to that they hadn't done it since 1964.