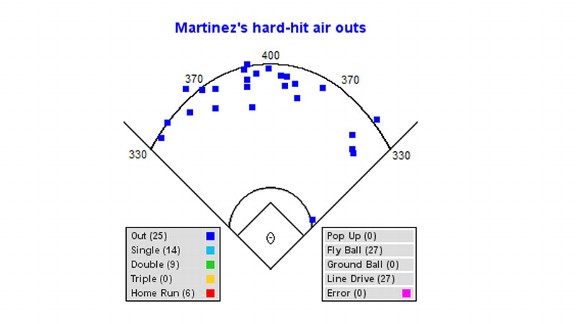 Victor Martinez has an abundance of hard-hit line-drive and flyouts in 2013.
For one of the few times this season, Tigers DH Victor Martinez got what he'd deem an appropriate reward for hitting the ball hard.
Martinez upped his average to .231 with a night that featured two hits, including a grand slam in a rout of the Red Sox. Martinez had five RBI for the game, the most he's had in any game with the Tigers.
"Hard-Hit Average" vs BA
Tigers Batting Title Qualifiers
Martinez was snakebit by hard-hit outs early this season, as we've previously detailed here. And that has continued to carry over through the season's first couple months.
To recount: One of our data providers categorizes batted balls into three groups- hard-hit, medium-hit and soft-hit.
Of his first 48 "hard-hit" balls this season, Martinez recorded 25 hits and two home runs.
The average major leaguer gets hits on about 70 percent of his hard-hit balls, a rate Martinez basically achieved from 2009 to 2011 (68 percent).
But this year, he was a bit below that figure early in the season, whether it be due to factors such as bad luck, the ability of outfielders to chase down his long fly balls, or his inability upon return from injury to muscle the ball out of the park.
Only two of the first 43 hard-hit balls Martinez hit in the air went over the fence. But the grand slam made it four out of his last 10 leaving the yard.
If Martinez can get going right, he'll add another major threat to the Tigers lineup. And he's one who can make contact. He misses on only 11 percent of his swings. That's the fifth-lowest rate among the AL's batting-title qualifiers.
But Martinez is not completely removed from his hard-hit woes. His final at-bat produced a fly ball that looked like it would be a sure double, if not for a running catch by Red Sox left fielder Daniel Nava.
Scherzer 11-0
If Martinez's season has been one of imperfection, Max Scherzer's has been one of near-perfection. He improved to 11-0 with his win on Saturday night. The Tigers haven't had a pitcher start a season 11-0 in more than 100 years. George Mullin was the last to do so in 1909.
After allowing two runs and three hits in the 1st inning, Scherzer would settle down and allow only three hits the rest of the way. He threw 76 percent fastballs in the first inning – and allowed two hits with the pitch – but threw only 52 percent fastballs the rest of the way (one hit allowed).
With seven lefties in the Red Sox lineup, Scherzer threw a career-high 31 percent changeups. He kept 70 percent of his changeups down in the zone, his second highest percentage this season.
Scherzer became the first starter to begin a season 11-0 since Roger Clemens in 1997.
Most Consecutive Wins
By Starter to begin season (since 1969)
Scherzer had at least six strikeouts for the 15th straight start to begin the season.
That's tied for the fourth-longest streak in the majors since 1900.
The longer runs are all going to take a while to reach. Randy Johnson had a streak of 35 straight in 1999 and another of 23 in 2000.
Sandwiched between those is the longest AL streak- 29 starts to start the season by Pedro Martinez in 2000.