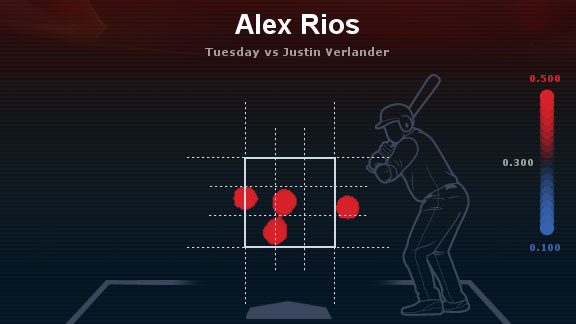 ESPN Stats & Information
Alex Rios was 4-for-4 against Justin Verlander on Tuesday.Chicago White Sox outfielder Alex Rios did something on Tuesday that hadn't been done in 20 years.
Rios became the first Major League Baseball player with at least six hits and two stolen bases in a game since 1993, when Sammy Sosa did it for the cross-town Chicago Cubs.
6 Hits, 2 Stolen Bases in a Game
Rios is the fourth player in history with six hits and two stolen bases in a game, joining Sosa, Gene Richards and Max Carey. He's the third player to go 6-for-6 with two stolen bases, according to the Elias Sports Bureau.
Rios is the first MLB player to go 6-for-6 since Adrian Gonzalez in 2009. He's the first White Sox player to accomplish the feat since Lance Johnson in 1995.
As a team, the White Sox had 23 hits, the most by any team since the Colorado Rockies had 25 against the Houston Astros on September 25, 2011.
Rios's first four hits came off Detroit Tigers starting pitcher Justin Verlander. According to Elias, Rios is the first player with four hits in a game off Verlander.
Rios saw a total of just six pitches in his four at-bats against Verlander, as he attacked early in the count.
Three of Rios's four hits off Verlander came on fastballs down the middle early in the count. Two of them came on 0-1 pitches and one of them on the first pitch of the at-bat. His other hit off Verlander also came on the first pitch of the at-bat, on a slider down the middle in the lower half of the zone.
Verlander's fastball did not have its usual life on Tuesday. He didn't throw a pitch faster than 92 MPH to Rios and his average fastball velocity was 91.3 MPH, down considerably from the 93.9 MPH in his previous start on July 4.
Since June 1, Rios is hitting .423 with no strikes in the count. Before June 1, he was hitting .323 with no strikes this season. He has been more aggressive with no strikes over the last five-and-a-half weeks, as his swing percentage and miss percentage have both gone up. Rios's aggressiveness has paid off in those situations.