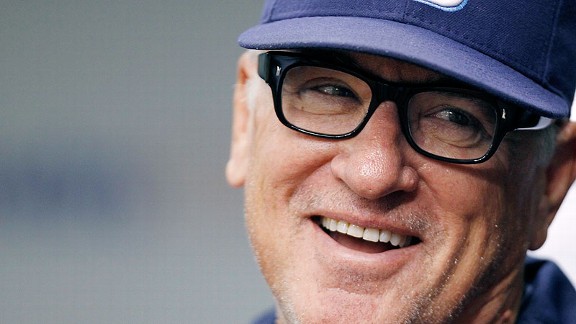 AP Photo/Scott Iskowitz
The Rays bullpen has made Joe Maddon very happy lately.
The Tampa Bay Rays may finish in playoff position as the first half comes to a close, and if they do so, they can dish out a large chunk of credit not just to their offense, but to their amazing recent bullpen performance.
Rays Bullpen - 2013 Season
After a very shaky first two months, Rays relievers have been extraordinarily good the last two.
In the last six games in which the bullpen has been needed, it has pitched 20 1/3 innings, yielding one run and 11 hits, with 27 strikeouts and two walks. That includes three flawless innings in Saturday's win over the Astros.
Key to performance: Fernando Rodney
The turnaround has started at the back, with the return of Fernando Rodney to something close to 2012 form. Rodney has thrown 12 straight scoreless outings, and has gotten back to being a top strike-thrower, with 20 whiffs and two walks in this stretch.
Fernando Rodney - 2013 Season
Rodney has gone from a pitch mix that was about 60/40 fastballs/changeups for most of the season to one that is now 70/30 and that combo seems to be producing desired results.
Rodney has been much better at getting ahead in the count of late. For the season's first 10 weeks, he was throwing first-pitch strikes at a rate barely better than 50 percent.
In these 12 outings, he's thrown nearly two-thirds of his first pitches for strikes.
That's noteworthy, since opponents have a .408 on-base percentage after being up 1-0 vs Rodney this season, .222 when he's up 0-1.
McGee's an outs machine
The same thing that holds true for Rodney also holds true for Jake McGee, whose first-pitch strike rate has bumped up from 64 percent through June 9 to 72 percent in his 17 appearances since then.
Opponents are 7-for-their-last-51 against McGee, who has retired the last 15 batters to face him. He's struck out seven in three perfect innings over the last four days.
Unsung hero: Alex Torres
The pitcher with the most impressive stats out of the Rays bullpen didn't pitch Saturday, and for that the Astros may be thankful. Lefty Alex Torres has held opponents to seven hits in 86 at-bats (an .081 batting average) with 33 strikeouts.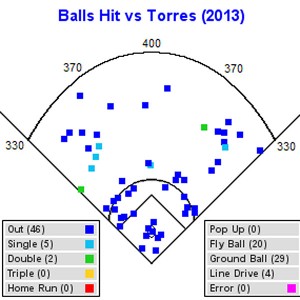 No one is hitting the ball well vs. Alex Torres.
Of the 53 instances in which batters have made contact with Torres, only four have hit line drives.
And of the two dozen balls hit in the air, only two have reached even as far as the warning track (one of which was along the right field line, where the track juts in as a fielder nears foul territory).
Torres falls in line with the other Rays pitchers who put the fastball-changeup combo to good use.
Rodney and Torres rank 2-3 in the majors in terms of how often they get hitters to swing and miss against the combination of those two pitches (the only pitcher who rates higher is Angels closer Ernesto Frieri). Torres gets misses on them at a 34 percent clip.