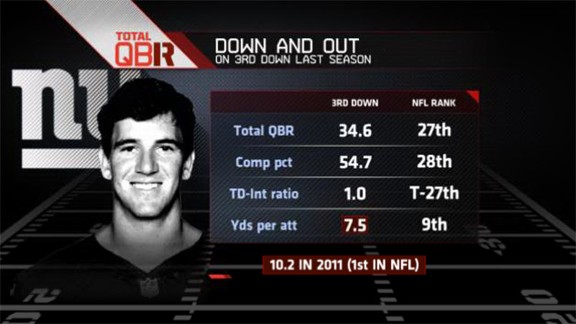 On Saturday, New York Giants general manager Jerry Reese said this before the team's first practice:
"All I know is that we've been in the playoffs one time in the last four years and that's really not acceptable for us."
SportsCenter is at Giants training camp on Sunday and will try to answer some of their most important offseason questions. Here are some of the topics they'll touch on:
Can Manning move past his poor 2012?
After seemingly cementing himself as one of the NFL's "elite" QBs in the 2011 playoffs, Eli Manning's production slumped significantly in 2012, with his biggest issue being the inability to be successful on third down.
Manning's Total QBR of 34.6 on third down ranked 27th among NFL quarterbacks.
There were questions last year as to whether Manning got tired as games went on. He completed only 54 percent of his fourth-quarter passes in 2012, a decline of 13 percentage points from 2011.
Manning has thrown at least 15 interceptions in three straight seasons. He has an NFL-worst 56 interceptions over the last three seasons.
Will Cruz justify his new contract?
Victor Cruz, who entered this offseason as a restricted free agent, signed a five-year deal (with $15.6 million guaranteed) on July 9.
Victor Cruz Out of Slot
Last 2 Seasons
Cruz will earn $9 million annually over the first three years of the deal, making it tied for the 12th richest active contract for a WR.
Cruz had 2,628 receiving yards the last two seasons, fifth-most in the NFL. He leads the NFL in touchdown catches as a slot receiver in that span with 15.
Will Nicks earn a new deal
Cruz's receiving mate Hakeem Nicks is entering the final year of his rookie deal. Nicks' yards per game declined from 86.1 in 2011 to 53.2 last season.
Nicks has had to battle injuries. He's missed seven games over the last three seasons.
Cruz and Nicks are vital to the Giants success. Seventy percent of Manning's passes have been targeted at them over the last two seasons.
Can David Wilson replace Ahmad Bradshaw?
David Wilson should make the transition to full-time running back, replacing Ahmad Bradshaw.
Wilson led rookie running backs with an average of 5.0 yards per rush last season. He'll be trying to replace Bradshaw, who ranked ninth in the NFL in rushing touchdowns over the last three seasons with 23.
One thing to keep in mind: The Giants have won without a great rushing game. The 2011 Super Bowl champs ranked last in the NFL in rushing.
Will the pass rush return?
When the Giants won Super Bowl in 2011, they registered 34 sacks with four or fewer rushers, the second most in the NFL, a total that plunged to 21 sacks in 2012.
Their sack rate dropped from sixth-best in the league two seasons ago to 21st last season.
Osi Umenyiora, who had 75 sacks in 10 seasons with the Giants from 2003-12, signed with the Falcons in the offseason. He's one of three Giants with at least three sacks in 2012 who are no longer on the Giants roster.