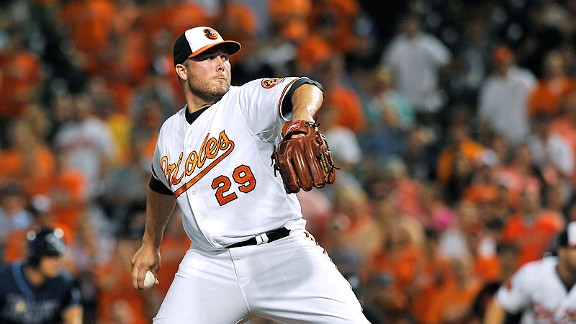 AP Photo/Gail Burton
Tommy Hunter has been huge for the Orioles' bullpen this season.
On Thursday, we wrote about the New York Yankees' David Robertson and his work as the game's best setup man.
The Baltimore Orioles have found a Robertson of their own in Tommy Hunter.
Hunter was one of four Orioles relievers to combine for 4 1/3 scoreless innings in a win over the Oakland Athletics that gained them a game in the race for the wild card.
Hunter is the power arm that complements submariner Darren O'Day and veteran Francisco Rodriguez in getting the ball to closer Jim Johnson.
Hunter, like Johnson, has had a few ups and downs this season. But he's on a pretty good roll right now with two saves and five holds this month. Here's a closer look at his season.
Comfortable transition
This is the first season in which Hunter has been a full-time relief pitcher, and he's adapted to the role pretty well. Most notably, his strikeout rate is up. He's getting 18 percent of hitters to whiff this season, up from 13 percent from 2009 to 2012.
Tommy Hunter - Fastball
With the move to the bullpen, Hunter has cut loose his four-seam fastball, airing it out with an average speed of 96 mph, up from 92 mph over most of the last two seasons (the increased velocity began with a move to the bullpen late in 2012).
He's also increased how often he uses it, cutting back on the cutter that was his primary No. 2 pitch.
The velocity change has turned the pitch into a nasty one. The chart on the right notes the success he's had compared to his struggles from the past.
Tough to square up
One of our video-tracking services charts every at-bat, classifying batted balls as "hard," "medium" or "soft" based on a number of parameters.
Of the balls that have been hit against Hunter this season, only 16 percent have been classified as "hard-hit." That's nearly half of his rate of 30 percent from 2010 to 2012.
Hunter was extremely prone to the home run before this season. In 2012, he yielded 32 homers in 133 2/3 innings. He's given up seven in 68 1/3 innings this season, but only one in his past 29 innings pitched.
Great Eight
Buck Showalter often gives Hunter eighth-inning responsibilities. On Friday, Hunter got through the eighth, retiring Jed Lowrie and Josh Donaldson to preserve a two-run lead.
Hunter has pitched in the eighth inning 32 times this season and has held oppponents to a .177 batting average and one extra-base hit in 79 at-bats.
Those are numbers that justify his nickname, "Big Game."