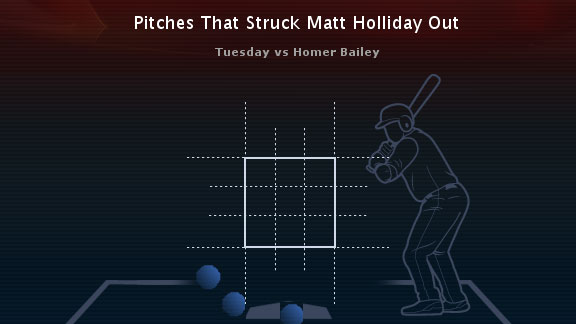 There were three pivotal matchups in the Cincinnati Reds 1-0 win over the St. Louis Cardinals on Tuesday night.
Let's run through them from a statistical perspective and show how important they were to that victory.
Matt Holliday vs. Homer Bailey
Matt Holliday entered this season 11-for-25 in his career against Reds starter Homer Bailey, but Bailey has figured out how to get him out repeatedly in 2013.
Holliday is 1-for-10 against Bailey this season. He was 0-for-3 against him on Tuesday, striking out three times on pitches off the plate.
The big change in Bailey's approach against Holliday has been in where he's located his fastball. From 2009 to 2012, he threw 37 of 54 fastballs to Holliday to the inner half of the strike zone or off the inside corner. Holliday got seven hits and made only four outs against those pitches.
This season, when Bailey's thrown Holliday a fastball, there's been less predictability to it—half have been outer-half, half have been inner-half. Holliday has made five outs against it, without getting a hit. And he's flailed repeatedly against Bailey's offspeed stuff.
The strikeout pitches you see atop this article were the kind Bailey had working all night. He got 12 swings and misses on pitches out of the strike zone, tied for his second-most in any start this season.
Holliday would also strike out in the ninth inning against Aroldis Chapman, giving him four strikeouts in four plate appearances for the game. It marked only the second time in Holliday's career that he struck out in every plate appearance, batting at least four times. The other came against the Diamondbacks (Micah Owings and Juan Cruz) in 2008.
Billy Hamilton vs. Yadier Molina
With rosters now expanded to 40, the Reds dispatched their new weapon, speedster Billy Hamilton, as a pinch-runner with the score tied in the seventh inning.
Hamilton was up for the challenge in trying to get his first major-league steal. He's had 230 in the minors over the last two seasons.
Opponents had only stolen successfully against Molina 58.8 percent of the time this season entering the day, tied for the lowest rate for a catcher in the majors (matching that of A.J. Ellis of the Los Angeles Dodgers).
Molina had only allowed 20 steals in 932 innings this season. The seven other catchers who entered the day with 900 or more innings caught have averaged allowing 55 steals between them.
Hamilton was able to win that matchup and put himself in scoring position for Todd Frazier, who would drive him home with a double against Seth Maness.
Anyone vs Aroldis Chapman
We mentioned that Chapman struck out Matt Holliday. What we didn't mention was that he did so with a 103 mph fastball.
Chapman seems to be pitching as if he's on a mission to break the record for the world's fastest fastball.
Through his first 56 appearances this season, about one of every four Chapman heaters was clocked at 100-plus.
But in his last three games, he's thrown more than half of them at triple digits—34 of 60 to be exact.
Good luck to anyone trying to get a hit against one of those fastballs. Opponents are 3-for-57 this season when an at-bat against Chapman ends with a pitch thrown 100 mph or faster.