Chris Graythen/Getty Images
Last year at this time, 10 of the 12 Chase spots were decided heading to the regular-season finale at Richmond. The race to the Chase was still dramatic, though, as Jeff Gordon surpassed Kyle Busch in the closing laps to take the 12th and final spot.
This season, there are still five spots unclaimed heading to Richmond. Ten drivers remain alive for those spots, with seven still controlling their own destiny.
Here's a breakdown of who's alive and what they have to do.
The Scenarios
Dale Earnhardt Jr. has the easiest road to the Chase, needing only to finish 32nd or better to lock up a berth. In 28 career Richmond starts, he's only finished worse than 32nd twice. However, just three weeks ago, Earnhardt finished 36th at Michigan.
Among the drivers from eighth to 10th in points:
• Joey Logano clinches by finishing 11th or better
• Greg Biffle clinches by finishing in the top nine
• Kurt Busch clinches with a win, or by finishing second with a lap led
Logano could make his first Chase. Busch could make history by becoming the first driver from a single-car team to make the Chase, doing so for Denver-based Furniture Row Racing.
Beyond those four, three other drivers will enter Richmond in a "win and you're in" situation: Jeff Gordon, Martin Truex Jr. and Ryan Newman.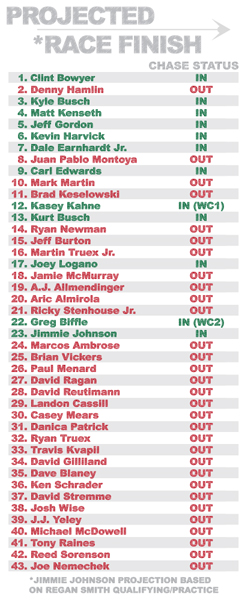 ESPN Stats & Information
Not so fortunate is the defending series champion, Brad Keselowski, who will be in danger of becoming the second Chase champion to miss the Chase the following year, joining Tony Stewart in 2006. In fact, if Keselowski misses the Chase, he's guaranteed to finish outside the top 12 in points, something that no defending champion who has run the full season has ever done before.
And, to give an idea of how wild this season has been, two other drivers remain mathematically alive for a Chase berth, Jamie McMurray and Paul Menard, who each have just a single top-five finish between them this year.
The Projections
So, who has the advantage heading to Richmond? Early projections for Saturday's race shows that the Chase field is going to come down to the wire.
Those projections say Clint Bowyer will take the win, picking up three much-needed bonus points, but the true story is behind him.
Jeff Gordon is projected to finish fifth, with Kurt Busch 13th, meaning Busch would hold onto his top-10 spot, and would be joined by fellow winless driver Gordon in the top 10 and the Chase field.
Kasey Kahne's 12th-place finish wouldn't be enough to put him in the top 10, so he'd take the first Wild Card spot and lose out on six bonus points.
Greg Biffle would slip out of the top 10 and into the second Wild Card behind a 22nd-place finish. Martin Truex Jr. is projected to finish 16th and miss making the Chase for a second straight season.
Looking Forward
Raced Way Into Chase in Final Race
Final Points Positions
According to the early projections, Gordon would race his way into the Chase for a second straight season, but that doesn't bode well for his Chase chances.
Five times a driver has raced his way into the Chase field in the finale, and none of those five went on to finish in the top five in points.
A better indicator of success is the win column. Eight of the nine previous Chase champions had multiple wins entering the Chase. That would limit the contenders to: Matt Kenseth, Jimmie Johnson, Kyle Busch, Kevin Harvick and Kahne, unless a driver picks up his second win of the season on Saturday.