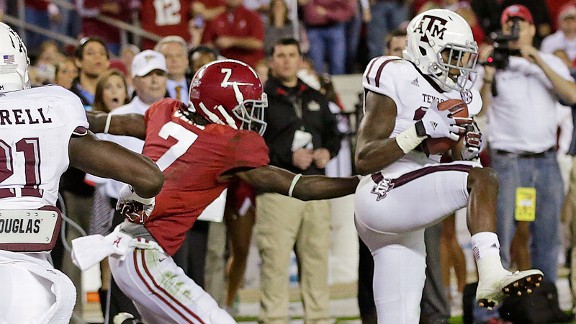 AP Photo/Dave Martin
The Texas A&M defense caused trouble for Alabama a year ago.Texas A&M hosts Alabama Saturday in arguably the most anticipated game of the season. While Johnny Manziel has garnered much of the attention, the ability of Texas A&M's defense to slow down Alabama's offense will play a significant role in determining the outcome.
Looking Back to Last Year
The Aggies' defense, especially early in the game, was a key factor in last year's upset. Texas A&M jumped out to a 20-0 first quarter lead, as the Aggies held Alabama to a single first down and a season-low 34 yards in the first 15 minutes.
AJ McCarron completed 1-of-5 passes for five yards with an interception, posting a QBR of 0.2 in the opening quarter. That was the worst of any quarter in his career (minimum four action plays).
McCarron Passing in the Red Zone
Last 2 Seasons
McCarron bounced back to throw for a career-high 309 yards, including 201 yards in the fourth quarter. But he uncharacteristically struggled in the red zone, sealing A&M's win with an interception on fourth-and-goal with 1:36 remaining.
Alabama's running game also did not perform up to its usual standards. Last season, Alabama led the SEC in yards after contact (1,394 yards) and broken tackles (35).
Yet Texas A&M held Alabama to a season-low 42 yards after contact and didn't allow them to break a single tackle in last year's meeting. It was the only SEC game last year the Tide didn't have a single run of 20 or more yards.
Looking Ahead to Saturday
Texas A&M's defense enters Saturday struggling mightily against the run. Both Rice and Sam Houston State rushed for at least 240 yards in A&M's first two games this season, more than the Aggies allowed in any game last season.
Tackling has been a major issue for the Aggies. They've missed 18 tackles and had nine tackle attempts broken, tied for the most among SEC teams.
Texas A&M Rush Defense
Last 2 Seasons
Alabama had its own problems offensively in its season opener, as the rebuilt offensive line struggled to contain Virginia Tech's front seven.
Alabama was held to 96 yards rushing, its lowest total since its 2011 loss to LSU. Including sacks, Tide players were hit behind the line of scrimmage on half of their rushes against the Hokies. Last year Alabama players were hit in the backfield only 15 percent of the time.
McCarron, who finished with the second-worst QBR of his career (23.4), took four sacks and was hurried or knocked down on six of his 23 pass attempts (26 percent). Last year McCarron was hurried or knocked down on fewer than eight percent of pass attempts.
Texas A&M, however, has struggled to get to the quarterback in its first two games. The Aggies have only 10 total pressures this season, tied for the fewest in the SEC.
McCarron also needs to re-connect with his main passing target, Amari Cooper, who caught just four of 10 targets for 38 yards against Virginia Tech. In 2012 McCarron completed 77 percent of his passes to Cooper, his highest rate to any wide receiver.
Last year the Aggies couldn't contain Cooper, who caught six of nine targets for 136 yards, including a 54-yard touchdown that cut Alabama's deficit to five points in the fourth quarter.