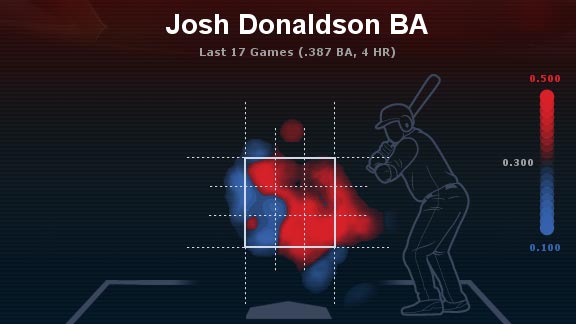 Josh Donaldson is crushing opponents lately.
Josh Donaldson isn't going to win the AL MVP award this season, but he could make the case as one of the game's most improved players.
The Oakland Athletics are rolling right now and Donaldson's play has been a significant component of that. He has an 11-game hitting streak and is batting .387 with a .473 on-base percentage and .758 slugging percentage in his last 17 games. On Sunday, he helped jump-start the Athletics offense to finish off a sweep of the Texas Rangers.
How has Donaldson improved?
The graphic on the right shows the difference in his numbers against pitches to every quadrant of the strike zone (and off the plate to those areas). His numbers have gotten significant bumps in three of the four areas
Josh Donaldson
BA by Pitch Location
Most recently, he's crushed pitches on the inner half of the plate or off the inside corner.
During this 17-game stretch, Donaldson has 16 hits against pitches to that area, including the homer. That's as many hits as he has outs against those pitches in that span.
There are a lot of other ways in which Donaldson has improved. One is that he now crushes left-handed pitching. The homer he hit on Sunday was his 11th against a lefty this season. He has nearly three times as many hits against lefties in 2013 (56) as he did in 2012 (19) in less than twice as many at-bats.
Donaldson and the MVP
Donaldson's MVP legitimacy has been a hot topic in the media recently, for good reason.
With this hot stretch, Donaldson has climbed up the Wins Above Replacement leaderboard in the American League. He entered Sunday and should enter Monday with the second-best WAR. His 7.3 (up from 1.5 in 2012) is surpassed only by Mike Trout's (8.8). Donaldson entered the month of September ranked sixth in the AL in WAR but has leapfrogged four players in about two weeks.
One of the reasons that Donaldson rates so high is that his defense is nearly as good as his offense. He ranks tied with Evan Longoria for the second-most Defensive Runs Saved among American League third basemen with 11.
Donaldson also rates fourth in the AL in another advanced metric, Win Probability Added, trailing only Chris Davis, Miguel Cabrera and Trout.
That stat measures success and failure on a play-by-play basis, looking at how much each plate appearance contributes to winning.
Donaldson has done more than his share of contributing in 2013 and the Athletics have reaped the rewards.