About the ESPN Hot Zone
• Use the dropdowns to select sortable information about the player.
• A color will appear when there are at least five at-bats using the selected criteria.
• Click on the image to receive the averages that correspond with the data.
• The raw data will appear when there are fewer than five at-bats using the selected criteria.
For each of the eight remaining postseason teams, the Stats & Information team will offer a look at a key hitter and use Next-Level data to analyze how he might best be approached by opposing pitchers. This article looks at David Ortiz and Evan Longoria.
With a .309 batting average, 30 homers, and 103 RBIs this season, David Ortiz was the first Red Sox player to win the team's triple crown in a season since Manny Ramirez in 2001.
Being the most dangerous hitter in Boston's lineup, opposing pitching staffs will surely spend a great deal of time game-planning his plate appearances. So how should they attack him?
Get Strike One
This may seem obvious as getting ahead of any hitter is a great way for a pitcher to put himself in a better position to achieve an out, but it's even more important with Ortiz.
After going down 0-1 in plate appearances this season, Ortiz has been reduced to a .281 batting average, .317 on-base percentage, .777 OPS hitter. That's a far cry from the .343/.489/1.133 line he's produced after going ahead in the count 1-0.
And throwing strike one to Ortiz has been a relatively low-risk endeavor for pitchers this year. Ortiz is not particularly aggressive swinging at the first pitch (very close to major-league average at 27 percent), and he's done comparatively less damage when he's put those pitches into play.
His .299 batting average and .966 OPS on the first pitch appear to be excellent, but ranked in context of the AL (57th and 36th of 75 hitters who qualified for the batting title), they are no more than average.
And those numbers do not take into account the fact that Ortiz has fouled off nearly 40 percent of the first-pitches he's swung at this year, which of course reduced him to an 0-1 count in such plate appearances.
Righties - Get Away With Pitches Up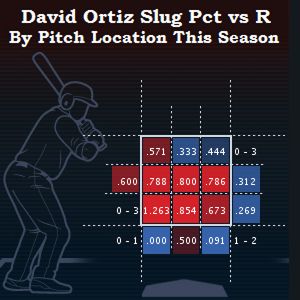 The old adage for facing left-handed power hitters is "don't pitch them low and in," and this is certainly true for righties facing Ortiz. He pummeled pitches in the lower/inner quadrant against right-handers this season, belting 10 of his 30 homers in those locations.
But Ortiz did show a distinct weakness against righties-- against pitches located up in the zone and above. Check out the zone chart on the right -- Ortiz was 3-for-21 (.143 batting average) in at-bats ending with right-handed offerings up in the zone this season.
His slugging percentage was boosted because two of those hits were home runs.
Lefties - Stick To The Breaking Stuff
Like most left-handed hitters, Ortiz is weaker facing same-handed pitchers. As a group, lefties held Ortiz to a .260 batting average, .315 on-base percentage, and .733 OPS in the regular season. And like most lefties, Ortiz was most susceptible to breaking pitches.
Ortiz hit seven home runs off lefties in the regular season; six came against fastballs. In at-bats that ended with sliders or curveballs, Ortiz batted a paltry .225 with a harmless .296 slugging percentage.
One thing for lefties to be aware of - Ortiz knows you like to pitch him low and away. Of the collective 788 pitches lefties threw Ortiz this year, 425 of them (54 percent) were located in or off the outer/lower quadrant of the strike zone. And Ortiz was prepared for them, batting .313 in at-bats ending with pitches in that location.
-- Will Cohen
About the ESPN Hot Zone
• Use the dropdowns to select sortable information about the player.
• A color will appear when there are at least five at-bats using the selected criteria.
• Click on the image to receive the averages that correspond with the data.
• The raw data will appear when there are fewer than five at-bats using the selected criteria.
Rays slugger Evan Longoria has been "Mr. Clutch" for the Rays on multiple occasions during his career, notably in 2008, 2011 and 2013, when he powered the team into the playoffs.
The Red Sox would like to keep Longoria down. What might their approach be in pitching to him in this series?
Here are some things to keep in mind:
Recent trend
Longoria has been red-hot for a little more than a week, going 13-for-33 over his last eight games, including the win over the Indians in the Wild Card Game.
Eleven of those 13 hits have come against pitches in the lower half of the strike zone or below, including all three in the regular-season finale against the Rangers.
The Red Sox approach: Away, Away, Away
The Red Sox know Longoria well and have an approach that they like to use against him. They'll pitch him to the outer half of the plate and off the outside corner about two-thirds of the time, a little more often than other teams will.
This works: He's hitting .237 with 40 strikeouts in 44 games against them over the last three seasons. This season, he hit .269 with five home runs in 19 games, but also struck out 26 times.
How lefties get Longoria out
Longoria is hitting .301 with a .383 on-base percentage and 10 home runs against left-handed pitching. It took good left-handers to get Longoria out—he went 0-for-13 against Madison Bumgarner, Clayton Kershaw and Derek Holland and 2-for-11 against the only lefty he'll likely see in this series, Red Sox starter Jon Lester.
Though Bumgarner, Kershaw and Holland worked him inside, Lester adheres to the Red Sox gameplan of pitching him outside. He retired Longoria nine times in 12 plate appearances. Seven of those outs came on pitches on or just off the outside corner.
How righties get Longoria out
What keeps Longoria's batting average down in the .260s is that he doesn't hit right-handed pitching for average that well. His 2013 slashline was .256/.327/.472
A pitcher with good command of his offspeed pitches is the kind most likely to give Longoria trouble. Longoria swings at offspeed pitches from righties only 36 percent of the time.
Longoria only swings at offspeed pitches in the strike zone 49 percent of the time, the second-lowest rate in the majors, edged out only by Jose Bautista.
That's part of the reason that Clay Buchholz has fared well against him.
Longoria is 7-for-34 against Buchholz in his career. Over the last five seasons, he's 1-for-12 against Buchholz's offspeed stuff.
The best defense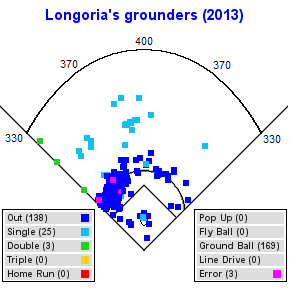 Longoria is someone who is borderline "shiftworthy" for a right-handed hitter, as 146 of his 169 ground balls were hit either over or to the left of the second base bag (85 percent).
Longoria is equally apt to hit the ball directly over second base as he is to hit it to the right of the bag, so don't be surprised to see Dustin Pedroia cheating towards the base as pitches are delivered.
When Longoria hits the ball in the air, his tendency is to hit it to right center and down the right field line more often than most right-handed hitters.
But a left fielder should play deep. Longoria's average fly ball distance on balls hit to left field was among the longest in the majors.
Matchup to Watch: Longoria vs Uehara
Longoria is 2-for-17 in his career against Red Sox closer Koji Uehara.
Longoria has not been able to do much with Uehara's nasty splitter. He's taken 16 swings against it, missed seven, fouled off seven and put only two in play. His only hit against the pitch came with Tampa Bay trailing by seven runs at the time.
-- Mark Simon