About the ESPN Hot Zone
• Use the dropdowns to select sortable information about the player.
• A color will appear when there are at least five at-bats using the selected criteria.
• Click on the image to receive the averages that correspond with the data.
• The raw data will appear when there are fewer than five at-bats using the selected criteria.
For each of the eight remaining postseason teams, the Stats & Information team will offer a look at a key hitter and use Next-Level data to analyze how he might best be approached by opposing pitchers.
Cardinals infielder Matt Carpenter was one of baseball's most notable breakout players in 2013. After showing signs of being a capable hitter as a 26-year-old rookie in 2012, Carpenter had a terrific offensive season primarily playing second base in 2013.
The Elias Sports Bureau noted that Carpenter became the fifth player to lead the majors in hits, runs and doubles in the same season, along with Ross Barnes (in 1876!) and baseball legends Nap Lajoie, Ty Cobb and Pete Rose.
How do you get Carpenter out? It's not an easy task.
General Theme: Try to take advantage of his patience
Carpenter is a discerning hitter. He swung at only 37 percent of pitches thrown to him in 2013, the second-lowest rate in the majors (only Mike Trout was a hair lower) in 2013.
A pitcher can take advantage of that on the first pitch of Carpenter's at-bats. He only swung at 12 percent of first pitches thrown to him this season, the seventh-lowest rate in baseball.
Carpenter is not afraid to take a strike. In fact, the 717 called strikes he saw were the most in the majors … by 110 (Brian Dozier of the Twins ranked second with 607).
What makes Carpenter so good is that he can work behind in the count. His .298 batting average when the pitcher was ahead in the count ranked second in the majors this season, trailing only Joe Mauer's .312.
Righties: Work him upstairs
Carpenter is 6-foot-3 but is not a power hitter. He's someone who likes the ball down in the strike zone where he can crush line drives for singles and doubles.
Matt Carpenter in 2013
When Carpenter made contact with a pitch in the lower half of the strike zone or below, it had about a one-in-six chance of being an extra-base hit. When he made contact against a pitch in the upper half of the zone or above, that dropped to one-in-12.
Game 1 starter A.J. Burnett is going to have his work cut out for him. Carpenter is 9-for-21 with two doubles, two triples and four walks against him.
Burnett's best chance may be to just skip Carpenter entirely. On August 15, Carpenter with 3-for-3 against him with an infield hit on a changeup, a double on a curveball, and a triple on a 94-mph fastball.
Lefties: Take him higher
Carpenter had a .294/.353/.467 slashline in 222 plate appearances against left-handed pitching this season. A lefty wanting to get Carpenter out should also work up in the strike zone, but has to raise the ball higher than a right-hander would.
Carpenter's weakness is in the sliver that represents the top of the strike zone and the area above that. He went 6-for-36 when an at-bat against a lefty ended with a pitch to that spot and hit .323 when it ended anywhere else.
Carpenter is a good breaking ball hitter. He misses on those swings about half as often as other left-handed hitters, and when he makes contact, he does damage. Only Prince Fielder had more hits on breaking balls from lefties than Carpenter's 21.
But both Francisco Liriano and Tony Watson may have the right mix. They were able to get Carpenter with soft stuff in 2013. He went 3-for-16 against them, with 10 of the 12 outs (he reached on error once) coming against breaking pitches.
The best defense
Carpenter is not normally a candidate to be shifted against, as he tends to spray his line drives.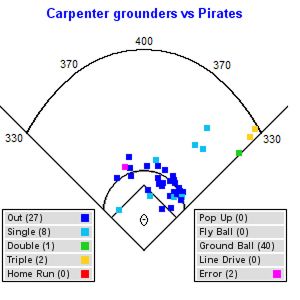 However, the Pirates, who employ shifts as often as any team this season, may take a chance on shifting him, having their third baseman play more where a shortstop plays and moving their shortstop behind second base.
The reason for that: Of the 40 ground balls Carpenter has hit against the Pirates the last two seasons, only six were to the left of second base, and only one was anywhere near where a third baseman would typically play.
The image on the right shows Carpenter's ground-ball tendencies against the Pirates this season.