About the ESPN Hot Zone
• Use the dropdowns to select sortable information about the player.
• A color will appear when there are at least five at-bats using the selected criteria.
• Click on the image to receive the averages that correspond with the data.
• The raw data will appear when there are fewer than five at-bats using the selected criteria.
For each of the eight remaining postseason teams the Stats & Information team will offer a look at a key hitter and use Next-Level data to analyze how he might best be approached by opposing pitchers.
Pirates centerfielder Andrew McCutchen will be among the top candidates to win NL MVP honors after hitting .317 with a .404 on-base percentage, .911 OPS, 21 home runs and 27 stolen bases.
He will be the biggest challenge for St. Louis Cardinals pitchers in their NLDS matchup.
How can the Cardinals get him out?
They can look to their success against him this season.
McCutchen's slashline in 79 plate appearances against St. Louis was .246/.329/.377, making him a bit less effective than he was against them from 2010 to 2012, when his numbers were .317/.384/.485.
Righties only need apply
One way the Cardinals can limit McCutchen is by keeping their left-handed pitchers away from him. Only 21 of his 261 plate appearances against St. Louis have come against left-handed pitching.
There's a reason for that: namely that McCutchen has a .336 batting average and 1.002 OPS against lefties in his career, .388 and 1.130 this season.
So given that the Cardinals will likely throw all righties in this series, they're already minimizing McCutchen's early-game impact and Mike Matheny will probably not throw a lefty reliever against McCutchen unless he's forced to do so.
Work up top
Cardinals righties got McCutchen out this season by attacking him in the upper part of the strike zone.
Cardinals RHP vs McCutchen
They upped their rate of throwing fastballs and cutters from 54 percent of pitches (from 2010 to 2012) to 64 percent of pitches (in 2013) and kept those pitches up as the chart on the right notes.
The Cardinals are well-equipped to do this from a personnel standpoint because of their plethora of hard throwers—Shelby Miller, Lance Lynn, Joe Kelly and Trevor Rosenthal can all throw a fastball 95 mph.
McCutchen has been very good the last season against mid/upper-90s fastballs, but not against the Cardinals. was 8-for-35 with 10 strikeouts against those four, 2-for-18 when the turn ended with a fastball in the upper half of the zone or above.
Wainwright's conundrum
The Cardinals power arms have a specific means by which they can get McCutchen out. It's not as easy for the Cardinals Game 1 starter, Adam Wainwright.
McCutchen is 12-for-28 with six extra-base hits against Wainwright for his career and has had at least one hit against him in nine of the 10 games in which Wainwright has faced him.
The Wainwright breaking ball, so effective against most hitters, has not been against McCutchen, who has reached base six times via hit or walk (and once via error) and made only four outs against Wainwright's curves and sliders. A couple of those were hangers over the middle of the plate, but McCutchen also got hits against ones that jammed him and one that was way off the plate.
The primary thing for Wainwright to remember is how important it is to work the edges of the strike zone against McCutchen.
McCutchen is 9-for-16 when an at-bat against Wainwright ends with a pitch thrown over the middle-third of the plate height-wise or width-wise, and 3-for-12 when the turn ends with a pitch on (or off) one of the edges.
Defensive Adjustment
Matheny is not a manager who uses a lot of defensive shifts, but the numbers show one tweak he can make: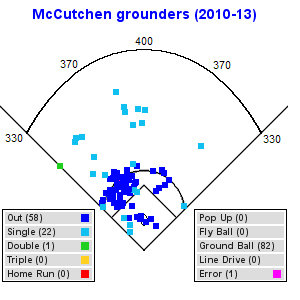 He can play his first baseman way off the line.
The spray chart on the right shows where he hits the ball when he hits it on the ground against the Cardinals.
He pulls the ball at a high rate, one that would necessitate some defensive adjustment, though maybe not a shift.
One other note to go with that: In five years of playing against the Cardinals, McCutchen has never grounded out to the first baseman.