Getty Images
Don Mattingly will manage his first LCS, while Mike Matheny has made it both years as a manager.The St. Louis Cardinals host the Los Angeles Dodgers in Game 1 of the NLCS tonight (8:37 ET/ESPN Radio). It should be quite the pitcher's duel between Zack Greinke and Joe Kelly.
Lowest ERA Since All-Star Break
Qualified Starters*
Since the All-Star break (including the postseason), Greinke ranks second and Kelly third in the National League in ERA among qualified starters.
The only NL pitcher with a better ERA during that span is Greinke's teammate Clayton Kershaw.
Let's take you through some storylines for tonight's game.
Joe Kelly stats to watch
Kelly gets the ball in Game 1 for the Cardinals after a strong close to the season. Including his postseason start, Kelly is 7-2 with a 2.03 ERA in 57⅔ innings in his last 10 appearances (nine starts).
One of the keys to that: 57 percent of the balls in play against him were ground balls, compared to 47 percent in his first 27 appearances.
One of Kelly's forte's all season has been his ability to escape trouble. He allowed a .161 batting average with runners in scoring position, the fifth-lowest batting average among the 157 pitchers who faced at least 100 batters in those situations.
Zack Greinke 2013 Season
Including Postseason
Zack Greinke stats to watch
Greinke has plenty of familiarity with the Cardinals. He's 6-2 with a 3.18 ERA against them in the past three seasons.
He's also 5-0 with a 1.39 ERA in his last eight road starts. In those, he's allowed only two home runs in 51⅔ innings pitched.
The first 12 starts of Greinke's Dodgers tenure (including a post-brawl injury) looked like a disappointment. But he's been even better than advertised since, posting a 1.65 ERA over his last 17 starts, spanning 114⅔ innings pitched.
The big bats: Beltran and Ramirez
Carlos Beltran's BA/HR combination is rare in postseason history. Not only does he have the second most home runs (16) in NL postseason history (trailing only Albert Pujols' 18 home runs), he's one of five players to have a career .330 batting average and 10 home runs in the postseason.
The others are Albert Pujols (.330 BA/18 HR), Steve Garvey (.338 BA/11 HR), George Brett (.337 BA/10 HR) and Lou Gehrig (.361 BA/10 HR).
Hanley Ramirez hit .345 with a 1.040 OPS and 20 home runs in only 86 games for the Dodgers this season. He's continued that strong performance into the postseason, registering one of the highest OPS marks in the history of the NLDS.
Matchup to watch: Carpenter vs Greinke
Matt Carpenter was an MVP candidate for the Cardinals this season, thanks to a .318 BA, .873 OPS and 126 runs scored.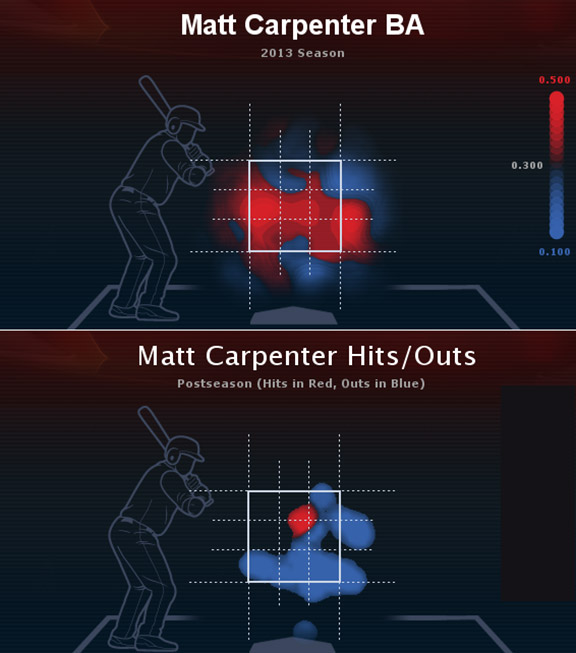 But he's struggled mightily in the Division Series, going 1-for-19. A big part of his problem appears to be pitches on the outer half. He's swinging and missing at more than double the rate that he did in the regular season.
Figure that Zack Greinke is armed with that knowledge, and if so, he may go with his changeup often to Carpenter.
Lefties hit .417 off Greinke's changeup in his first 12 starts and .130 in his next 17. Nearly 92 percent of his changeups to lefties have been located on the outer half of the plate in those last 17 starts.