Peyton Manning was drafted by the Indianapolis Colts No. 1 overall in 1998 and spent 14 seasons with the team (including the 2011 season when he sat out with an injured neck).
Manning vs Luck
Through 1st 22 Career Starts
During his time there, Manning was named the AP NFL MVP a league-record four times, led the Colts to two Super Bowls (winning Super Bowl XLI) and started 208 consecutive games, the second longest streak by a quarterback in NFL history.
He'll oppose the Colts for the first time in his career when the Denver Broncos travel to Lucas Oil Stadium to take on Andrew Luck, the No. 1 overall pick in the 2012 draft.
Luck has posted better stats in his first 22 career starts than Manning did, but he still has a long way to go to be as good as the current version of Manning.
Manning has been setting the league on fire so far this season. His 22 touchdown passes and 2,179 yards are the highest by any player through six games in league history.
Just check out the heat map below to see exactly where on the field Manning has been so effective this season (he's above the league average in passing yards per attempt on throws 10 and 20 yards down the field).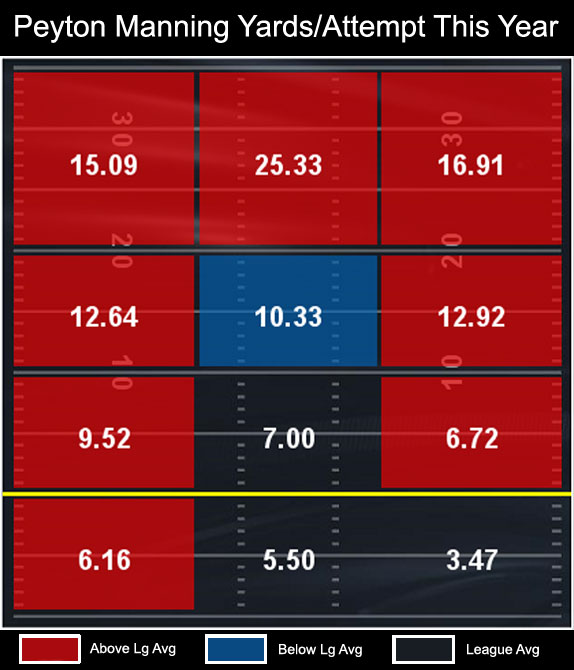 Luck, on the other hand, has not been as effective as Manning. He's below the league average in yards per attempt on throws short and to the middle of the field.