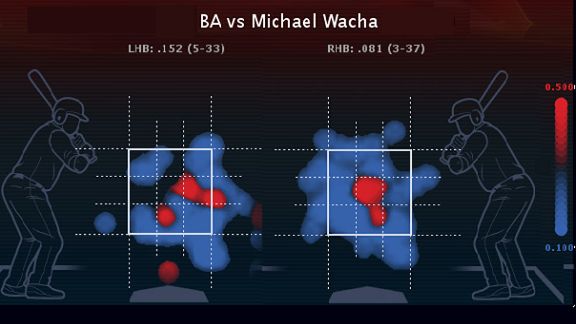 Michael Wacha has dominated everyone this postseason.
The Boston Red Sox will go for their 10th straight World Series win on Thursday night when they face the St. Louis Cardinals.
Here are some of the notes and numbers our SportsCenter crew and ESPN Radio game broadcasters Dan Shulman and Orel Hershiser will be talking about during Game 2.
Michael Wacha stats to know
Wacha is 3-0 with an 0.43 ERA in three starts this postseason. He's now made 12 starts in his career, combining the regular season and postseason and has pitched at least seven innings while allowing two or fewer hits in five of those.
The 22-year-old Wacha will be the second-youngest Cardinals starting pitcher in World Series history, trailing only Paul Dean (brother of Dizzy Dean), who won two starts for the Cardinals against the Tigers in the 1934 World Series.
The Elias Sports Bureau notes that Wacha could become the first rookie starter to win four games in the postseason.
Wacha has been the master of finishing hitters off and is doing so with great variety. Opponents are 4-for-45 against him in two-strike counts this postseason, with 21 outs coming via his fastball and 20 via his offspeed pitches (changeup and curveball).
John Lackey stats to know
Lackey is 2-0 with a 3.00 ERA and 14 strikeouts in 11 innings this postseason.
Fenway Park has been a comfortable place to pitch. He's 7-3 with a 2.71 ERA in 14 starts there this season (including his ALDS Game 2 win over Tampa Bay).
#41 SP
Boston Red Sox
2013 STATS
GM

29

W10

L13

BB40

K161

ERA

3.52
Lackey is no stranger to the World Series, making three appearances (two starts) for the Angels in their 2002 World Series victory, in which he won Game 7.
Per Elias, he is the seventh pitcher who won Game 7 of a best-of-seven World Series to pitch for another team in a subsequent World Series.
Carlos Beltran is a game-time decision with a rib injury. Should Beltran be in the lineup, he'll be challenged to hit Lackey, against whom he is 0-for-9 in his career.
Did you know?
• The Red Sox have won Game 2 in each of their last three World Series appearances. The Cardinals have lost Game 2 in each of their last four World Series appearances. That's the second-longest Game 2 losing streak in World Series history, one shy of the Cubs, who have lost their last five Game 2s.
• During their nine-game World Series win streak that started with Game 1 of the 2004 Fall Classic, the Boston Red Sox have only trailed after a completion of an inning three times. For greater perspective, that amounts to the Red Sox trailing after 3.7 percent of the World Series innings they've played over the last decade.
Red Sox in World Series
Since Start of 2004
• Not only do the Red Sox rarely trail, but thanks to fast starts, they've led after 74 out of 81 innings played (91.4 percent). Boston has outscored opponents 15-1 in the first inning of its last nine World Series games played.
• The health of Beltran will be an ongoing storyline, but the regular-season numbers say it might not be as big of a factor as suspected.
Elias informs us that the Cardinals has a .547 winning percentage with Beltran playing in his two seasons on the club, while posting an .821 winning percentage (23-5) in his absence.
• In Game 1, Pete Kozma became one of four players in the last 55 years to commit two errors at shortstop in a World Series game. Don't expect that to continue, as Kozma's .984 fielding percentage this season was second-best among National League shortstops (Troy Tulowitzki, .986).