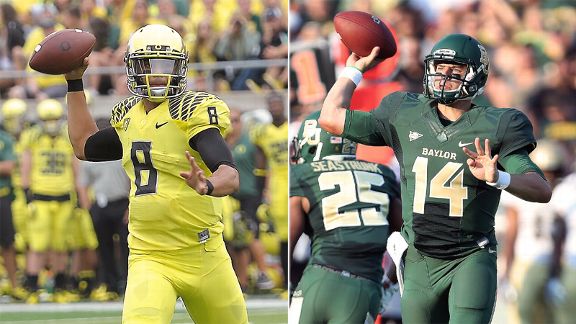 Icon SMI
Marcus Mariota and Bryce Petty have racked up points and stats all season.Oregon and Baylor will each try to remain undefeated on Thursday night. Below are 15 need-to-know stats in preparation for their games.
1-- Baylor is averaging an FBS-high 63.9 points and 718.4 yards per game. The Bears are on pace to break the FBS records for points (56.0) and yards (624.9) per game that were set by Army in 1944 and Houston in 1989, respectively
2-- Oregon has scored at least 42 points in each of its first eight games this season. The Ducks are the fourth team in the last 100 years to start a season with at least 42 points in eight straight games.
3-- Baylor has scored 22 touchdowns in drives lasting one minute or less, eight more than any other FBS team this season. In the last 10 seasons, there have only been six teams that have scored more than 22 touchdowns in one minute or less in an entire season.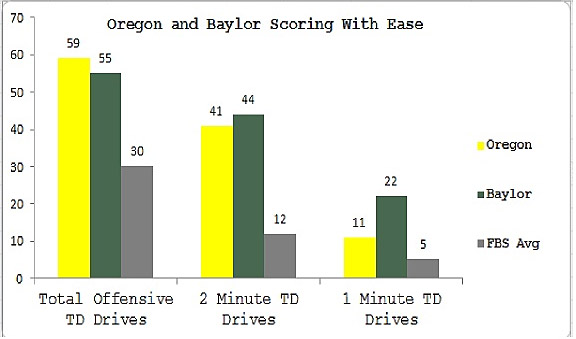 4-- Oregon has an FBS-high 59 offensive touchdowns, including 41 in two minutes or less. The Ducks' 41 touchdown drives in two minutes or less is four fewer than all of last season when they led the FBS with 45 such touchdowns.
5-- Baylor is averaging more points in the first half (42.1) than 115 FBS teams average for a game. In the first half, the Bears average a FBS-low 15.9 seconds per play and their average touchdown drive lasts 1 minute, 19 seconds.
6-- Oregon quarterback Marcus Mariota has thrown an FBS-high 225 pass attempts without an interception this season. Dating back to last season, Mariota has thrown a Pac-12-record 293 passes without an interception.
Petty Throws of 25+ Yards
This Season
7-- Baylor quarterback Bryce Petty is averaging 13.9 yards per pass attempt, on pace to be the highest rate for a qualified quarterback in the last 10 seasons. The deep ball has been key for Petty. He has 19 completions and 10 touchdowns (both the most of anyone in an automatic-qualifier conference) on passes thrown 25 yards or longer.
8-- Oregon averages an AQ-high 7.5 yards per rush on zone-read plays, including 5.2 yards before first contact. On such plays, Mariota is averaging 13.7 yards per rush and has six touchdowns.
9--Petty leads the FBS with a 95.3 opponent-adjusted QBR. The leader in opponent-adjusted QBR in three of the last six seasons went on to win the Heisman, including Johnny Manziel last year.
10-- Oregon is the only team in the FBS that ranks in the top five in ESPN's new offensive and defensive efficiency. The Ducks have ranked in the top five in offensive efficiency each of the last three seasons.
Highest Offensive Efficiency
In Completed Season (Since 2004)
11-- Baylor is on pace to have the highest offensive efficiency in the last 10 years. Offensive efficiency measures an offense's contributions to its team's opponent-adjusted scoring margin per game.
Through seven games, Baylor's offense is adding about seven more expected points towards its net scoring margin, more than any other offense has for an entire season since 2004 (as far back as our data goes).
12-- Oregon quarterback Mariota has posted a Total QBR of 90 or higher in six of his eight games, tied with Petty for the most such games in the FBS.
13-- Baylor running back Lache Seastrunk is averaging 9.1 yards per rush, second in the FBS behind Mariota. Seastrunk has made it at least five yards past the line of scrimmage before first contact on 39 percent of his rushes, the highest percentage among AQ running backs with at least 75 carries.
14-- Oregon has forced 23 turnovers and scored 100 points off of its opponents' turnovers this season. Since the start of last season, Oregon leads the FBS with 63 takeaways and ranks second with 288 points off turnovers.
15-- Baylor has had an average in-game win probability of 86 percent across all of its plays this season, best in the FBS. Oregon ranks third with an 83 percent average in-game win probability.