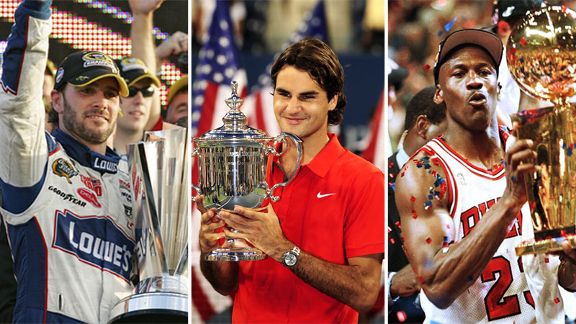 Getty Images
Jimmie Johnson (left) is in a class with other champs like Roger Federer and Michael Jordan.
The odds of Jimmie Johnson winning a sixth Sprint Cup Series championship are pretty good entering Sunday's season finale (1 p.m. ET, ESPN and WatchESPN). Another title would put him in select company -- only Dale Earnhardt and Richard Petty have won six titles (each has seven), and neither won six titles in an eight-year span, as Johnson is primed to do.
Johnson would be in select company from a NASCAR perspective, as he'd reach a sixth title in three fewer full seasons (seasons in which the driver started at least half the races run) than both Earnhardt and Petty. He'd also be the same age (38) as Petty at the time of his sixth title, and four years younger than Earnhardt.
But Johnson is also moving into the discussion of the most dominant athletes in recent memory. Let's weigh his accomplishments against some other notable superstars.
• Johnson -- would be first driver to win six Cup titles in an eight-season span; 66 Sprint Cup wins since 2002 are 30 more than any other driver in that span.
• Roger Federer -- won 16 Grand Slam titles from 2003-10 (16 of 27 Grand Slam titles in that span).
• Michael Phelps -- won 18 gold medals over three Olympics, including eight golds in eight events in Beijing in 2008.
• Tiger Woods -- won seven majors from 1999-2002, including four straight in 2000 and '01.
• Michael Schumacher -- won five straight Formula 1 championships from 2000-04; won 56 percent of races in span.
Even though Johnson is the lone driver for the No. 48 Hendrick Motorsports team, it's been a team effort to put the Lowe's Chevrolet continuously in Victory Lane, from crew chief Chad Knaus to car chief Ron Malec to the entire pit crew and staff in the shop.
Most Sprint Cup Series Wins
Since 2002
In the history of the four major pro sports (MLB, NFL, NBA, NHL), Division I college football and basketball (men's and women's), the NASCAR Sprint Cup Series, IndyCar and Formula 1, only a select number of teams have done what the No. 48 team is looking to do Sunday: win a sixth championship in an eight-year span.
Here are the other organizations to pull off six titles in eight years.
• New York Yankees -- the only organization to pull off the feat twice; won six of eight World Series titles from 1936-43, and six of seven from 1947-53.
• Montreal Canadiens -- hoisted the Stanley Cup six times in eight seasons from 1953-60.
• Boston Celtics -- won eight consecutive NBA championships (1959-66).
• UCLA Men's Basketball -- under John Wooden, won seven consecutive NCAA championships from 1967-73.
• Chicago Bulls: led by Michael Jordan and Scottie Pippen, won six of eight NBA titles from 1991-98.
Although Matt Kenseth and Kevin Harvick have a shot at the title, the championship remains Jimmie Johnson's to lose.