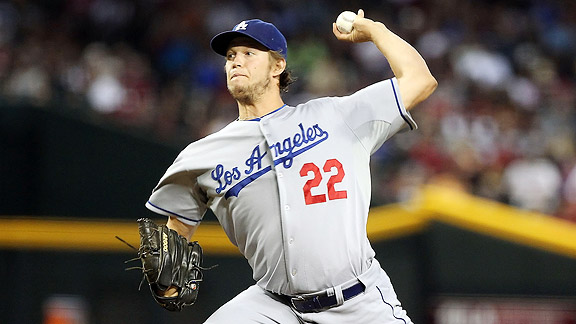 Christian Petersen/Getty Images
Clayton Kershaw was able to hone in on the changes needed to go from good to dominant
The Dodgers may not have had the best of seasons in 2011, but their ace, Clayton Kershaw, had a season that evoked the names of some of the best pitchers in Dodgers history.
Kershaw is the Dodgers first pitcher to win the Cy Young Award since reliever Eric Gagne in 2003 and the first Dodgers starter to win it since Orel Hershiser in 1988.
Kershaw finished with 21 wins, 248 strikeouts, and a 2.28 ERA. The last pitcher to hit or better all three of those benchmarks in a season was Pedro Martinez for the 1999 Red Sox.
The only two other National League pitchers to reach these plateaus in the last 40 years are Steve Carlton (1972 Phillies) and Dwight Gooden (1985 Mets). The last Dodgers pitcher to do so was Hall-of-Famer Sandy Koufax in 1966.
Kershaw was the first Dodgers pitcher to lead the National League in wins since Brad Penny and Derek Lowe in 2006, the first to be best in ERA since Kevin Brown in 2000, and the first to top the leader board in strikeouts since Hideo Nomo in 1995.
Youngest Pitcher to win Cy Young
All-Time (Age at season's end)
Kershaw was 12-3 with a 1.93 ERA in 18 starts this season against teams that finished the year with winning records. The Elias Sports Bureau notes that the only other pitcher with more than eight such wins this season was Ian Kennedy (9-2, 2.97 ERA in 14 starts).
Elias also notes that Kershaw closed the season with a flourish. His 1.31 ERA after the All-Star Break is the best of any pitcher in Dodgers history.
He and Justin Verlander each won the Pitching Triple Crown, the first time that had been done in both leagues in the same season since Hall-of-Famers Dazzy Vance (Dodgers) and Walter Johnson (Senators) won in 1924.
What made Kershaw better than he'd been in previous seasons?
Considering that the difference in Kershaw's batting average on balls in play from 2010 to 2011 was minimal (.279 in 2010; .274 in 2011), what most made Kershaw dominant was his strikeout increase (from 212 to 248) and walk decrease (from 81 to 54).
That came from Kershaw changing the mix of pitches with which he got outs in 2011.
In 2009 and 2010, Kershaw was a pitcher who got 70 percent of his outs with his fastball. Last season, he evolved into someone who used his heater to get outs just over half of the time.
The big jump for Kershaw was in the increased use of his slider as his dominant out pitch (something we noted in August). It got one-third of his outs in 2011, a rate that was basically double what it got in 2010.
That was even more pronounced with two strikes, as Kershaw went from throwing breaking pitches 35 percent of the time in 2010 to doing so in 60 percent of his two-strike counts last season.
Kershaw's high rate of success with his slider was evident in this stat: He struck out 138 hitters with his slider, the most strikeouts with that pitch in the majors.
The image below illustrates Kershaw's change in approach. The image on the left shows the location of Kershaw's strikeout pitches to right-handed hitters in 2010. The image on the right shows a much different look for 2011.
The red shading accounts for an area in which Kershaw whiffed 62 hitters last season, nearly double the number the number he had in that location in 2010.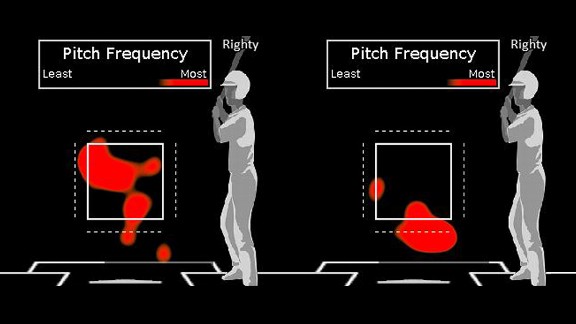 Where Clayton Kershaw got strikeouts most often in 2010 (left) and 2011 (right)
Click here to create your own Kershaw heat maps and custom images