According to win probability data provided by the Elias Sports Bureau, three teams posted comebacks when faced with less than a 15 percent chance to win in their final at-bat on Wednesday.
Let's run through those games and the players whose end-game performance made the difference.
Red Sox: win probability in ninth inning bottomed out at 14.3 percent
Brock Holt sure had to be happy that Chris Sale was out of the game come his last turn at-bat.
Holt had gone 0-for-4 against the overpowering Chicago White Sox lefty, having been called out on strikes twice and having grounded out twice. He fared much better against reliever Javy Guerra, lining the game-winning single to lift the Boston Red Sox to victory.
Though Holt strikes out a lot, he has gotten good results with two strikes this season. His game-winning hit against Guerra offset four prior two-strike outs. He's now hitting .260 in two-strike situations this season, tied for 12th-best in the majors.
Royals: win probability in the ninth inning bottomed out at 14.3 percent
The first 37 home runs of Salvador Perez's major league career all were calculated at 355 feet or longer.
His three-run home run in the ninth inning on Wednesday would be 17 feet shorter than any homer he'd hit previously, but it was nonetheless a big home run for the Kansas City Royals.
It was the first time in 14 years that the Royals got a go-ahead home run in the ninth inning or later when they were trailing by two runs or more. The last was hit by Rey Sanchez against the Baltimore Orioles in 2000.
Perez got the home run on a fastball in the upper half of the strike zone, a mistake from Tampa Bay Rays rookie Kirby Yates. Perez is 32-for-90 with four home runs against fastballs in the upper half of the zone or above (you can see them in the image below).
His .356 batting average on those pitches ranks in the top 10 percent among hitters this season.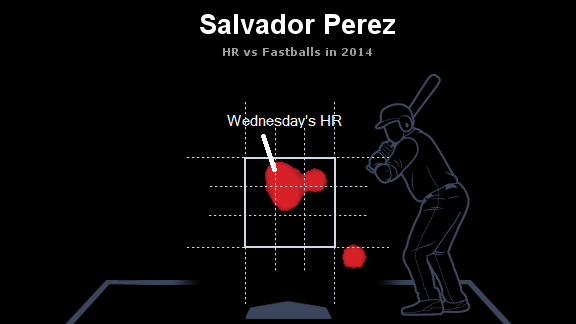 Diamondbacks: win probability in 10th inning bottomed out at 11.1 percent
The Arizona Diamondbacks lost in crushing fashion on Tuesday. They would win in a similar manner on Wednesday.
Paul Goldschmidt, who made the final out of Tuesday's loss (on Marcell Ozuna's ninth-inning home run), got the game-winning hit, a two-run double to the left-center gap against Miami Marlins closer Steve Cishek.
It was Goldschmidt's fifth career walk-off hit, his second against the Marlins and the first to come when his team was trailing.
Goldschmidt has a major league-leading 35 doubles this season and is on pace to be the first player to hit 60 doubles in a season since Hall-of-Famers Joe Medwick hit 64 and Charlie Gehringer hit 60 in 1936.