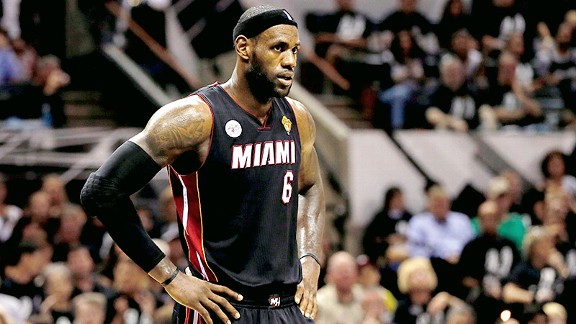 Kevin C. Cox/Getty Images
In all four Finals series of his career, LeBron James hasn't been his best. Is his body failing him?
It may have been the defining moment of Game 5, maybe of the 2013 NBA Finals.
With about 6:20 left in the third quarter and the Miami Heat down by four points, LeBron James deflected a pass from Gary Neal and Mario Chalmers scooped up the loose ball.
Bad news for San Antonio: A LeBron James fast break had ignited.
Normally in these situations, James would fly down the court and power his way to the basket. No one is better or more frightening than James when he has the ball in transition. In the Eastern Conference finals, Pacers point guard George Hill said, "There's only one person scarier than (James) and that's God."
But this time was different.
Chalmers fed the ball down the court to the streaking James. The only man he had to beat was former teammate Danny Green, who started sprinting toward the basket.
But James slowed down. No, this wasn't strategic hesitation. James looked like he tried to push the turbo button and instead hit the emergency brake. Not only did it allow Green to catch up to James, but Green squared up in front of James before they even reached the basket.
James then stumbled through a sloppy Eurostep and tried to leap over Green, but Green rose up and blocked his halfhearted layup.
Danny Green had just blocked a LeBron James fast-beak layup.
James then recovered the ball underneath the rim, but instead of rising up and dunking it, he rushed up a layup. It fell off the rim and landed in the Spurs' hands.
As the other nine players sprinted the other way, James stood in the paint and watched. When Tony Parker blitzed through the Heat defense and laid it in, James had barely crossed half court.
From that moment on, James looked exhausted. Deferring shots and loafing on defense, he looked weary and worn out.
He looked human.
---
James is true a physical specimen. He is built like Karl Malone, but runs faster, jumps higher and exerts more power than just about anybody in the league. If a science lab engineered the perfect athlete to play the sport of basketball, it might look something like James.
But he is not built out of a science lab. He is human, and he is reminding us of that every time he reaches the Finals.
James has been to four Finals in his career and each time his play has fallen off. So far in this Finals, he is shooting 43.6 percent, down from his regular-season rate of 56.5 percent. He is struggling to get to the free-throw line (he didn't take any in Game 3) and his scoring average is down to 21.6 points per game.
When James struggles in the Finals, the general public immediately points to psychological factors to explain his dropoff. He is mentally weak. He shrinks under the pressure. He lacks Michael Jordan's killer instinct.
But what if it has nothing to do with that? What if his body is failing him? What if it's a simple case of physical exhaustion?
---
To illustrate James' late-season swoons, the chart below shows James' player efficiency rating (PER) as the season has progressed during his Finals runs of 2007, 2011, 2012 and 2013, starting with the regular season all the way to the Finals. PER bottles up all of the box score statistics to estimate a player's per-minute productivity where a 15.0 rating is average.
(The thick red line is the average of his four Finals runs combined and the lighter lines are the four individual Finals runs).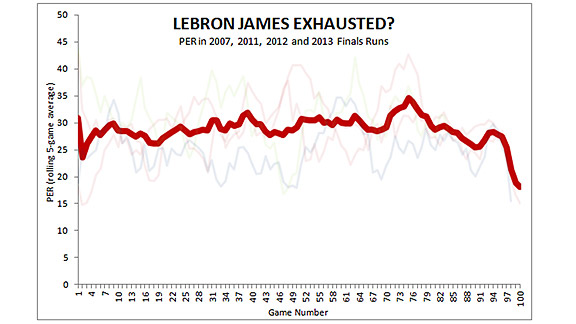 Tom Haberstroh/ESPN.com
Notice that nosedive at the end? Hard not to.
James' productivity doesn't just slip, it falls off a cliff. In 20 Finals games, James has registered a 19.7 PER, which is down significantly from his conference finals PER of 28.2. So far in the current Finals, James' PER is 22.1, down from his regular-season rate of 31.6 and a conference finals rate of 30.
In fact, James has seen his productivity decrease from the conference finals to the Finals in all four seasons.
What's going on here?
---
People forget because he won the title, but James' body shut down in last year's Finals.
At the end of Game 4 against the Okalahoma City Thunder, James laid on the ground unable to get up under his own power. Midway through the fourth quarter, James had to be carried off the court because of a leg cramp, which seems minor. But it forced James to remove himself from crunch-time of an NBA Finals game.
Of course, James came back to the court practically on one leg and hit two critical jump shots, the last of which was a 3-pointer that iced the Heat's 104-98 victory. James' body had crumbled beneath him just minutes earlier, but the win washed away any concerns.
Many attributed James' 2011 collapse to something more psychological than physical, but here we are in the 2013 Finals and James still doesn't look like his normal, dominant self. He is missing shots in the lane that he normally hits. He is taking more jumpers than usual. His fast breaks are no longer automatic points. James is not pressuring the Spurs' defense as much as we expected, especially late in Game 5, and there are times when he's not sprinting back on defense when everyone else is.
So why is this happening to James and not anybody else?
Perhaps it's because James is asked to do more than anybody else.
He's tasked with running the Heat's offense like a point guard, setting screens like a big man, defending the best player on the other team in crunch time regardless of size and generally be everywhere and everything the Heat need. Erik Spoelstra calls him "1-through-5" because he can be any player he wants.
No one has the physical gifts of James, but it's also probably true that no one has the physical responsibilities of James either. And we're left blaming his intangibles because his body looks like it will never break down. Complaining about fatigue at this point in the season isn't an option, either.
James can turn it around like he did in Game 5 of the 2012 Finals, bouncing back from the leg cramps with a triple-double that clinched his first title. But if he doesn't, it might be because his body, not his mind, is failing him.