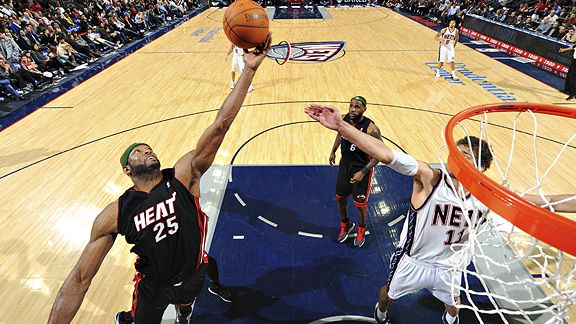 Jesse D. Garrabrant/NBAE/Getty Images
Erick Dampier was one of several members of the Heat's supporting cast to turn in a solid performance on Sunday.
NEWARK, N.J. -- I've written that the Heat have the league's worst-performing roster in spots 4 through 12, as players aside from the Big Three have posted the most miserable PER in the league. Certainly, that they're even mulling the idea of bringing in Eddy Curry lends further credence to that idea.
The good news from Miami's 108-94 win over New Jersey on Sunday, however, was that it looks like the Heat's Little Nine are starting to provide a bit more help. That's partly a function of health, as Mario Chalmers and Mike Miller returned from injury. It's partly a function of additions, as two players who weren't here at the start of the season -- Erick Dampier and Mike Bibby -- combined to play 55 minutes.
But mostly, it's because a couple of guys who didn't play well are perhaps playing a bit better.
Start with Dampier, who set season highs in both points and rebounds with his double-double. Granted, "season-high 10 points" is about as damning a four-word appraisal as you could make of his season thus far, but of far more interest are the 14 rebounds. Dampier had one of the highest rebound rates in basketball up until this season, when it mysteriously cratered. On this evening, grabbing a board every two minutes, he was hugely valuable.
"He had an impact, on both ends of the court," said Heat coach Erik Spoelstra. "Putting his big body under the rim, it's a tough cover against Lopez, but he stepped up to the challenge. That's three games in a row where Damp is starting to get his legs under him and having more of an impact."
Dampier was joined by fellow center Zydrunas Ilgauskas, who had 11 points in 20 minutes and provided some of the offensive rebound tip-in magic that he did so often in Cleveland, but rarely since joining Miami.
Ilgauskas has the fourth-highest PER on the Heat this season but had languished at the end of the bench of late; it's notable that he and Dampier shared all the minutes at the 5 while Joel Anthony got a DNP. While Z's game doesn't work against every opponent -- he's vulnerable defensively against strong pick-and-roll attacks -- he provides a lot more offensive support for the Big Three, and some size around the basket on defense.
"Both of our centers gave us very good minutes tonight," said Spoelstra. "They're big and give us a presence at the rim."
Meanwhile, the backcourt got a boost from the return of Miller and Chalmers, and while Chalmers didn't get any less mediocre during his absence, Miller provided some encouragement with a strong floor game.
Miller didn't make shots, and that remains a nagging concern, but the rest of his game was very solid and he ignited the night's best highlight. That spin-o-rama layup by LeBron James that will make every highlight reel? It came when Miller picked up Deron Williams on a switch and smothered his pass attempt, allowing James to scoop up the deflection and streak upcourt.
"I was encouraged," said Spoelstra. "He was giving us good defensive minutes, spreading the floor for us. It's not a factor to me whether the ball is going on or not, but he's a good rebounder, he helps your team win in a lot of different areas that don't show up in the box score."
Miller is indeed a vastly underrated rebounder -- he has one of the highest rebound rates of any wing player in basketball over the past few seasons -- but he came to Miami for his shooting. While a thumb injury has likely contributed to his struggles, the fact remains he's at 40.1 percent with a single-digit PER, and he missed all three 3-point attempts tonight.
The good news is -- everything else is there. And statistically, one has to think the shots will start falling, especially since the thumb should be less of a bother.
"He's too good of a shooter and he's proven himself," said Spoelstra, "I don't live and die with him making shots if he only gets three 3-point attempts in short minutes. You have to have a bigger sample than that. [And] whether the shots going in or not, he helps out spacing big time. Right before he got hurt, some of the rotations we had with Mike were really productive for us."
If Miller finds his stroke, perhaps tonight can mark a mini-turning point for Miami. Not the way the Cleveland game was a turning point, perhaps, but as a sort of awakening for the supporting cast. As we get into the playoffs, what productivity Miami gets from the two centers and Miller will go a long way toward determining whether the Big Three can get the big prize.