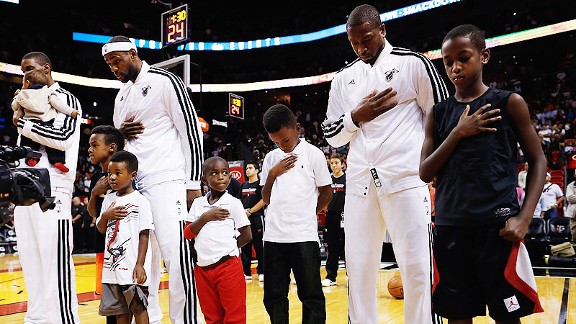 Christopher Trotman/Getty Images
Chris Bosh, LeBron James and Dwyane Wade took steps to honor the shooting victims in Connecticut.MIAMI – LeBron James and the Miami Heat delivered their most impressive efforts of the season Saturday, but it had nothing to do with basketball.
In fact, the night was defined by how James revealed he's just like anyone else.
Forget the expansive list of awards and accolades he's accumulated as the NBA's premier superstar. Disregard the massive shoulders, the 6-foot-8 frame that supports 260 pounds of muscle and freakish athletic ability.
That championship ring James desperately chased for a decade before capturing it? It holds little relative value.
The only MVPs of any significance for James on Saturday night – or, rather, especially Saturday night - were the Most Valuable Little People who accompanied the Miami Heat catalyst onto the court moments before the start of the game against the Washington Wizards.
LeBron James Jr. and Bryce James – LeBron's two young sons – joined their father and the children of several other Heat players for the national anthem. They also stood together for a moment of silence for the families and victims of Friday's horrific shootings at a Connecticut elementary school that killed 26 children and educators.
Then, those famous fathers hugged and kissed their sons and daughters before they got down to the business of basketball. But make no mistake about it: Nothing that transpired on the court during the Heat's most lopsided win of the season was as dominant as the subtle show of love, affection and respect that preceded Miami's 102-72 victory.
"No one is coming to us and saying, 'Hey guys, you should do this,'" James told ESPN.com during a private moment after Saturday's game when asked what motivated the team's action. "It's not even a second-guess for us. As soon as I saw (the news Friday), I felt it, and I went right into it. We all have a feeling about it, and we aren't afraid to do something about it. We don't have any problem with it. We have zero problem going out on any front and letting our voices be heard on situations that are unjust or aren't right."
Under normal circumstances, the Heat would have gathered for their morning shootaround Saturday as a group motivated to avenge their most embarrassing loss of the season, one to a then one-win Wizards team Dec. 4 in Washington. But on this particular morning, they were simply a locker room full of fathers who were crushed by news of the tragedy, concerned about their own kids and creative enough to develop a plan to show their support.
"It's been a heavy day," Heat coach Erik Spoelstra said. "It hit home with our guys. In the locker room (Saturday) morning, when I walked through, you could see it visibly in their expressions. Everyone was talking about it."
Dwyane Wade was first to speak up.
Like James, Wade also has two kids in elementary school in addition to custody of a young nephew in Miami.
"I just said that I wanted my boys with me out there," Wade said. "It takes one guy to say something, and the whole team is with it. It was a team decision to do it. We just appreciate that we have the opportunity to do that. So many families here today, they don't have the opportunity to wake up to their kids. So it was just our decision."
Basketball games in the middle of December are rarely memorable or symbolic. But this one was different.
This was another chance for the defending NBA champions, a team with some of the league's most recognizable stars, to lend their faces, thoughts, prayers and focus to another ordeal that has broken the heart of a nation.
While the Heat can list their biggest accomplishment of 2012 as helping James break through to finally win his first title, their impact off the court has been just as meaningful.
This is a team that has embraced social consciousness and has been unafraid of taking controversial stands.
It traces back to March. That's when James and Wade gathered the team before a game in Detroit to pose for a photo as players donned team-issued hooded sweatshirts. The gesture was in support of slain teenager Trayvon Martin, a Miami resident and Heat fan who was shot during a confrontation with neighborhood watchman George Zimmerman near Orlando during the All-Star break.
The Heat's outspoken practices continued over the summer, when James and Wade both used their charity efforts to raise awareness about rampant gun violence in Chicago. Wade held a weekend of events there in his hometown, and James reached out to the family and friends of a teenager who was killed on his way home from a party in suburban Chicago.
And five months ago, James used his Twitter account to post several messages of concern and support for the family of victims who were killed during shootings at a Colorado movie theater that killed 12 and wounded 58 others.
"We're in weird positions sometimes," Heat forward Chris Bosh said. "A lot of kids watch us. A lot of people follow what we do. Sometimes, you're able to speak on something and try to make something that's negative and try to turn it into a positive thing. You're just saying, 'We're aware of this. And we're going to stand for something.' You don't have to do much. You can tweet a photo or something like that and it can have a good impact."
Bosh said his teammates don't bother to concern themselves with any potential backlash. For example, segments of the country remain divided – some along racial lines - over the Trayvon Martin case, which has yet to go to trial.
But the Heat have also been a battle-tested team that has faced and overcome adversity and criticism in some circles since James and Bosh left Cleveland and Toronto, respectively, to join Wade in Miami in the summer of 2010. All three stars are conscious of their image, but aren't consumed by it. They don't check with public relations experts before taking action on issues they believe in.
"I did at first, when I first got here," Bosh admitted. "But after a while, you just say we're going to be ourselves, and if we want to speak about something, as long as we're not hurting anybody, we're entitled to our opinion."
During the Civil Rights movement of the 1950s and 60s, many prominent athletes, particularly African-American stars such as Jackie Robinson, Muhammad Ali, Bill Russell and Jim Brown, were outspoken on social issues.
That became less the case during the 1970s, 80s and 90s as professional leagues continued to rapidly integrate, and endorsement deals prompted athletes to be far more image conscious. But James says he believes more stars are willing to stand behind issues and support movements. The current issue is gun control laws.
Like many parents, Heat players see their kids every day. On Saturday, they saw them a bit differently.
"We're in a position where our voices are heard. And these are kids, we're talking about, too," said James, who had Newtown, Connecticut written on his game shoes. "We have kids of our own, so it hits home. For us to be able to use social media, use our voice, the game, no matter whatever the case may be, to speak out on a situation is something we love doing. It's just the group we have."
For the Heat, Saturday's performance was arguably the most impressive game they played this season.
But it paled in comparison to the pregame statement they collectively made.