NEWARK, N.J. -- It was going to be a setback night, a forgettable night, a how-fast-can-you-get-to-the-airport night.
It was going to be a "this is everything that's wrong about the NBA" night, one team thinly disguising a tank job and the other team stuck in a zone between resting too many players and not resting players enough in a relentless season.
Then LeBron James produced an illusion. He was able to go back in time two years or three years when his reality was different. To a time when he had a road crowd in one palm and the ball in the other. Where there was no concern about anything but his teammates getting the hell out of the way. No catalog of bad recent late-game memories, just a clear conscience and not a hint of regret.
For a few minutes it was not about the Heat's chase for a championship, not about who would be the "closer," not about anything except a hugely gifted athlete showing a mastery for the game. An unexpected vacation for everyone at the Prudential Center.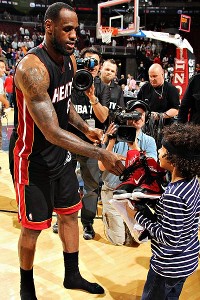 Getty Images
LeBron James gave away his shoes to a young fan after the game.
James scored 17 straight points in a blur of speed, force and finesse in a five-minute span Monday night in a game that went from bland to brilliant in a blink. Down five points to the New Jersey Nets, James waved his hand and the Heat won by three points, 101-98.
It completely won over the crowd, most rushing to their cell phones to take pictures and fire off texts and tweets about what they were seeing.
"It was amazing, honestly," said James, who ended up with 37 points. "Last year I never thought I'd hear 'Let's Go Heat,' that I'd hear 'MVP' on someone else's floor. What we've been through in the last year -- I'm happy to be part of it."
All the hype and the highlights, the commercials and billboards, the free-agent rumors and expectations exist because James is one of the few players in sport who can command a moment like this.
No, it wasn't against the 1971-72 Lakers or the 1995-96 Bulls. In fact the Nets were a shell of the shell of a team they are. Deron Williams and Gerald Wallace sat out with minor injuries and, of course, there was no Brook Lopez. So it was not a performance for the ages. But it was a reminder of why James is so popular and in demand.
Yes, there were thousands of Heat fans who came to the game and cheered throughout. But the series of plays he made won over the impartials and probably some of those that had been mixing the standard road boos for James earlier in the night.
As he made five baskets, all within a few feet of the rim in a wave of force that no one saw coming when the Heat fell behind by 13 points earlier in the second half, he captured the audience. Just like he used to before the infamous television broadcast up the road in Greenwich, Conn. And the rally in Miami. And the few bad nights in Dallas.
"Where were those fans earlier?" said Nets forward Kris Humphries, who was on track to being the game's hero with 29 points before James took over. "They should be screaming the whole game; don't just show up when they get on top."
The fans showed up when James brought them to their feet.
"The guy is so big and strong," Nets coach Avery Johnson said. "We attempted to double team him twice and he just overpowered our guys. And then when the third defender came, he beat the third defender. Then when guys fouled him, he still scored."
That's pretty much how it went. After coming back into the game with 5:35 left, James made four layups and a short jumper in the paint, and hit all seven free throws he attempted.
One time he went right through Humphries, listed at 6-foot-9 and 235 pounds, going chest-to-chest at the rim before flicking a left-handed bank shot. That gave the Heat their first lead of the game with 50 seconds left.
Then he zig-zagged through four Nets defenders on the same play – it was not inspiring execution by the Nets but James still beat four NBA players in the final seconds of a tight road game – to give the Heat a 3-point lead. Then he made two clutch free throws to finish it off.
There was no need to be concerned about deferring to Dwyane Wade, who sat the game out to rest. James has been amazing in situations like these this season. His scoring average improves four points a game, he gets to the foul line more and the Heat usually win. They are now 11-1 this season when James plays and Wade doesn't.
"I try to do the things that need to be done to help us win; I know that my scoring has to go up a little bit more when D-Wade is out," James said. "I was looking at the scoreboard and seeing we were making a run. I knew I was making some plays. I didn't know I scored 17 straight."