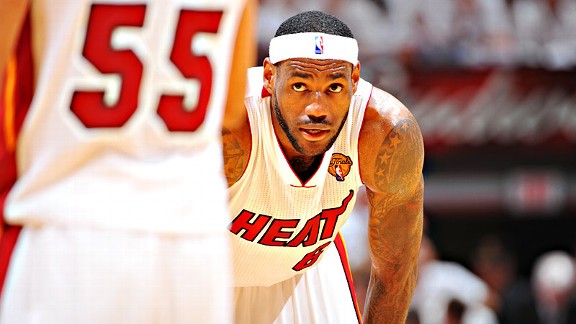 AP Photo/Lynne Sladky
LeBron James may be the most complete player in the league, but he's far from perfect.
What worked
Once again, James showed that he is the best all-around player in the NBA, and one of the best talents the game has ever seen. Even though he had a "down" year statistically compared to his last two seasons, he still led the NBA in PER once again, and could have won his third straight MVP award if his late-game issues hadn't cost the Heat the East's top spot. In the playoffs, James went to another level, eviscerating both the Celtics and the Bulls with brilliant offense, lock-down defense, and some incredible crunch-time play.
What didn't work
Then the finals came. For the second straight season, James simply melted down in a playoff series, and was nowhere to be seen in the fourth quarter of Game 2 or the entirety of Game 4, both of which the Heat could have easily won. James didn't make up for it in Games 5 or 6, and the Heat lost a Finals that they could easily have swept largely because of LeBron's stunningly passive and ineffective play.
What can be improved
Obviously, the most important thing for LeBron is that he needs to make it all the way to the finish line next season without imploding, but that's a battle that will take place between his ears.
A more tangible improvement that LeBron can make is to start playing more like a big man. James is a very large human being, who does not utilize his size as much as he could on the basketball court, specifically on the offensive end. James is currently listed at 6'8, 250. That number is a bit of a joke. When LeBron came into the league, he looked like this and was listed at 6'8, 240. If you think this player has gained zero inches in height and only 10 pounds since his rookie year, I don't know what to tell you. Many scouts believe LeBron has gained an extra inch since coming into the league, and almost everyone agrees that he now weights somewhere between 260 and 275 pounds.
If LeBron was a power forward, he would be slightly short for the position, although he certainly wouldn't be the shortest power forward out there, and he'd probably be one of the strongest and bulkiest power forwards in the league.
In spite of that fact, LeBron absolutely refuses to play like a big man. I'm not even talking about LeBron's embarrassing lack of a post game, which is definitely an issue, but LeBron's lack of a post game is just a symptom of a greater disease; even though LeBron has the speed to play point guard and the size to play power forward, he only chooses to fully utilize the former attribute on offense.
LeBron's lack of a post game has been discussed at length by a lot of people, including me, so I won't spend to much time on it here. For now, let's just say that we can all agree that a little more footwork, a little more patience under the rim, and a lot more aggression in the post would serve LeBron very well when he gets matched up against smaller players. LeBron doesn't even need a McHale-like set of counter-moves or Kobe-like footwork to be effective in the post -- LeBron has roughly the same size and strength advantage against opposing swingmen as Shaq did against opposing centers, and Shaq dominated in the post for years with a jump hook over his left shoulder, a spin dunk over the right shoulder, and a modified, weird-looking righty hook over his right shoulder if he wasn't close enough to dunk it. All LeBron needs to do to be a force in the post is commit to getting deep position, develop a reliable baby hook or floater over his left shoulder along with a counter-move over his right shoulder (and remember, LeBron is almost completely ambidextrous around the rim), and he's an instant force, but LeBron prefers to just tentatively dribble in, wait for the double-team to come, and pass out.
However, I'm less focused on LeBron's post game, or lack thereof, than most people. LeBron in the post is a dangerous weapon, but it's still one-on-one basketball unless LeBron gets a double team and passes out of it, which he already does the vast majority of the time he has the ball in the post. A post game would make James that much harder to defend, but he's already very, very difficult to defend one-on-one. A post game would certainly help LeBron, but it wouldn't be the end-all be-all for him.
What could make LeBron even more unstoppable than a post game would be a willingness to work to create offensive opportunities without the ball in his hands. According to Synergy Sports, LeBron only had 29 possessions as the "roll man" in a pick-and-roll last year, 120 possessions coming off of a cut, and only 71 possessions were initiated by LeBron grabbing an offensive rebound. Overall, less than one percent of LeBron's possessions came as the "roll man" in a pick-and-roll, coming off of a cut, or after an offensive rebound. For a 6'9, 265 (best guess) pound behemoth of a man, that's an embarrassingly low figure.
Possible lockout viewing material
Even though Blake Griffin only has one year of NBA experience under his belt, James could learn a thing or two by watching the reigning Rookie of the Year play basketball. Griffin isn't a franchise player just because he has an unmatched flair for finishing alley-oops; he's constantly working his butt off to get opportunities at the rim, whether that means setting the screen and rolling hard, finding a weak spot and cutting through it, crashing the offensive glass, or looking for a lob in transition.
According to Synergy, Griffin, who is roughly the same size and has the same off-the-charts athleticism as James, had 257 possessions as the "roll man" in pick-and-roll situations, 199 possessions off of cuts, and 192 possessions after he grabbed an offensive rebound. Obviously, Griffin created far, far more opportunities by using his size and working without the ball than LeBron did last season, and there's no reason that LeBron can't be the same kind of force on pick-and-rolls or cuts. (Rebounding is more of an innate skill, and has always been the most overrated part of James' game because of the triple-double fixation, but LeBron could probably work harder on the offensive glass as well.)
The fact of the matter is that LeBron already has two MVP awards and two conference championships with his current package of talent and skill, but remains ringless because he failed to apply those skills when it mattered most. At this point, it's far more important that LeBron understand what happened to him mentally in the Dallas series and make sure it doesn't happen again than it is for him to make any mechanical improvements to his game. However, if LeBron starts using his size like he should, both in the post and off the ball, he will become far more dangerous than he already is, and that will help him on his quest for the championship ring he's still desperately trying to obtain.