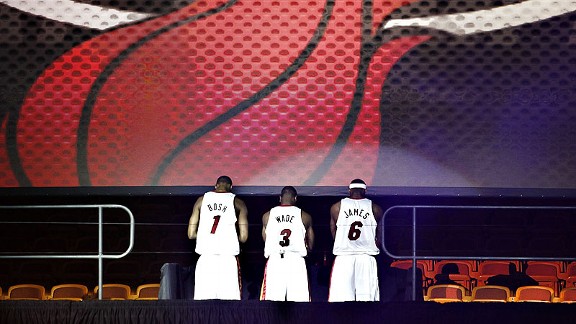 Marc Serota/Getty Images
The Big Three's season of redemption looks to be in doubt. How much of the blame falls on them?
It seems like a lifetime ago that former union president Billy Hunter said the two sides were on the "two yardline" of ending the lockout. Now the union is disbanded and the labor dispute is heading to the courts, jeopardizing the NBA season. The Heat may have fueled the most exciting season in recent memory, but it looks like they won't play for the foreseeable future.

Looking back on all that's transpired in the past few years, can we trace some of the blame to the Big There and their decision to join forces in Miami? Why aren't they more involved in this lockout? Which Heater stands to lose the most?
In another installment of Heat Index's 3-on-3 series, our writers debate the role of the Heat's stars in this mess.
1. Fact or Fiction: If the Big Three didn't join the Heat in July of 2010, the NBA is playing right now.
Tom Haberstroh: Fiction. Yeah, we don't know what this parallel universe NBA looks like, but it's safe to say that New Orleans would still be hemorrhaging money and the overall losses would still be substantial. Also, the fact remains that 29 teams would have been left out in the cold in the Summer of LeBron so the owners would still crave a power play. Maybe I shouldn't have voted "Fiction" after all.
Michael Wallace: Fiction. Had LeBron James, Chris Bosh and/or Dwyane Wade chosen an alternative destination -- with at least two of them ending up together -- we'd still be at this point. It would have simply meant a few different owners would have been hardliners, perhaps even Miami's Micky Arison. There's been enough division over revenue sharing and other system issues to hold this thing up. From the beginning, this was never as much about players versus owners as it's been owners versus owners.
Brian Windhorst: Fiction. Though competitive balance (aka the prevention of super team creation) continues to be a major stumbling block, the issues that have created this impasse were in place before 2010. The Heat's free agent haul only added to smaller market teams frustration with the player movement system, which developed into something lopsided for rich teams or teams in attractive markets. The Lakers trading for Pau Gasol by signing-and-trading a guy out of retirement, the Mavericks doing the same to get Jason Kidd, and teams trading players only to re-sign them a month later were all aspects that the majority of owners wanted to legislate.
---
2. Why aren't LeBron James, Dwyane Wade and Chris Bosh attending these meetings?
Haberstroh: Simply put, they're taken care of. Though it is interesting that the three players most responsible for the players' 2010 empowerment have largely been absent. On the other hand -- with the exception of Kobe and Carmelo -- almost all of the NBA's biggest stars have sat on the sidelines. Truth be told, they are probably busy making money elsewhere.
Wallace: LeBron and Dwyane have attended. Would it have been a bit more appreciated and noticeable had they been in New York more? Sure. From a PR standpoint, the NFL's players union had a lot more support and push because Drew Brees, Peyton Manning and Tom Brady were at the forefront of the litigation and meetings. It looked good for the cameras, but it technically didn't strengthen their legal battle. As long as LeBron, Dwyane and Chris have done enough to communicate with Heat player rep James Jones to voice their opinions, they've played within the system.
Windhorst: LeBron and Wade have been overseas doing promotional tours for their sponsors, you know, the people that are still paying them. But in all honesty, it is a missed opportunity. When he fired his agent and hired his friends to run his business and when he announced his free agent decision on television, James was bucking the establishment and charting his own course. For someone who cares passionately about leading this new wave of thinking, not taking an active role in the CBA that will dictate the rest of his career seems like it is a departure of what he wanted his off court persona to be. As for Wade, he's always been a leader and is someone young players want to follow. Also curious his position.
---
3. Which Heat player would lose the most from a canceled season?
Haberstroh: Eddie House? If the season's wiped out, the 33-year-old cult hero may have played his final game and it sure won't be easy to make up the $1.4 million he was due before the lockout started. The Big Three may have lost another title bid, but they each likely have around a decade's worth of basketball ahead of them.
Wallace: On the surface, it's easy to say Dwyane Wade. Approaching 30, he's older than Bosh and LeBron, therefore has fewer years of his prime to sacrifice. But stepping back and taking a panoramic view of his life at this point, there are multiple silver linings. He's won a title already. He's amassed generational wealth. He's won custody of his two young sons in the past year, and has a chance to devote even more time to his kids at a key stage of all of their lives.
Windhorst: Wade is older, the year is most valuable to him.