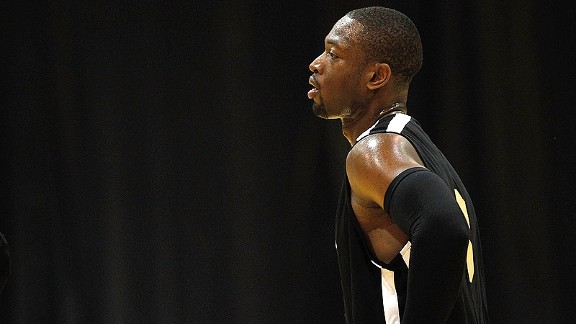 Mike Ehrmann/Getty Images
Dwyane Wade claims his attention is turning overseas, but for now, it's all just talk for these stars.
MIAMI – Do me a favor. Wake me when the next – no, make that, first - top NBA star reaches the TSA security checkpoint at your nearest airport on the way out of the country to play ball overseas.
Until then, I'm sleeping on the chatter from some marquee players suggesting they'll take their talents through customs. Not only is this literally foreign territory for our domestic best, it's also an internationally flawed concept.
Basketball Without Borders is one thing, indeed a fine global NBA outreach program.
But NBA brethren dealing with lockout boredom is something completely different.
I applaud many of the unfairly locked out players for exploring their overseas options. Their superior basketball ability as well as their marketing brands have made Kobe Bryant, LeBron James, Dwight Howard, Kevin Durant, Dwyane Wade and Derrick Rose among others as recognizable and adored in southeast Asia as they are on the south side of Chicago.
But I'm skeptical as to whether these flirtations with foreign leagues will ever lead to short-term flings. Release them from complicated-to-sometimes-oppressive contracts overseas, and many foreign players wouldn't hesitate to flock to the NBA and the world's brightest basketball stage. But it simply doesn't work the other way around, barring very few exceptions. Call it the Stephon Marbury exception.
The reality is the NBA is gone for now, and might not be coming back for awhile. So players are well within their rights – essentially as free agents en masse – to explore their playing options. It could be months or even years before lawyers and federal judges decide the league's fate in wake of the NBA's owners and players failing miserably so far to negotiate a new collective bargaining agreement.
So it's easy to understand where Wade was coming from when he said this week he will push power agent Henry Thomas to "take a peek" at the Heat star guard's playing opportunities overseas. Wade turns 30 in two months and will soon join Kobe on the back end of their careers. Despite their immense talent, time isn't necessarily on their side.
"I told my agent to just take a peek," Wade told the Associated Press on Wednesday. "It's time. There's a possibility that we're not going to have a season. We've got to see what's out there, what the possibilities are. I don't have too many years of basketball left."
As the saying goes, desperate times lead to desperate measures. I'm just not convinced they'll lead to basketball deportation – at least not among the league's elite. At least not at this late stage of the game. Fact is, some of the top European leagues are already months into their seasons. Opportunities to play among the best of the rest outside of the NBA aren't as plentiful as some think they are.
And that doesn't even account for the process to insure a top player's lucrative NBA contract. As my Heat Index colleague Brian Windhorst was quick to point out to me, it's much less of a risk for Deron Williams to get a policy that covers the final year of his contract than it would be for Wade to get one to insure the remaining $90 million on his deal in the event of major injury.
This isn't the Goodman, Drew or college intramural flag football league – where LeBron, Durant and Kobe were able to just roll in off the street, grab a jersey, join a roster and get showered with love and Twitter followers from all sides. The reality is that there are foreign leagues that frankly resent American players and feel their own product is just as good as the talent in the NBA.
The YMCA or Jewish Community Center league might not have a policy against adding a ringer in the middle of the season. I bet the Euro league and Chinese Basketball Association do.
Kobe was essentially on the runway to Italy a couple of months ago to cash in until those plans were delayed and then doused because of reported contract issues and league scheduling conflicts.
Before that, Wade was at the center of reports that a Chinese team was offering him millions to play on a deal that would have included a release clause to return to the NBA when the lockout ended. It was never really determined whether that deal was more rumor or reality.
It wouldn't surprise me, however, if Durant and LeBron did flee for the right fee, considering how spontaneous and free-spirited they've been in taking any court or field they've seen since the summer. But the players' timing with their recent overseas talk is about as bad as their timing with those union decertification threats. Both options should have been more strongly considered months ago.
You can almost hear Williams shouting, "I told you so" from east Istanbul, now a guaranteed $5 million richer after signing that one-year contract to play in Turkey at the start of the lockout.
Wade is a unique case. He'd be one of the last elite players I'd figure would head overseas. Within the past year, he's gained sole custody of his two young sons, Zaire and Zion, and tweets relentlessly and pridefully that he cherishes the daily interaction he has with them, from waking them up for school in the morning to making sure his workouts and business dealings are done by the time they return.
Wade's home life seems stable. He's amassed generational wealth. He's already won a NBA championship. I'm sure if he had to, he could walk away from the game right now with no regrets.
Yet like with most fierce competitors, the game still drives him.
In the past week, he's talked himself into playing in the 2012 Olympics in London after he previously leaned toward ending his Team USA career with the 2008 gold medal. And the threat of a season lost to a lockout now has him willing to take that peek overseas.
Wade said something in his AP interview that made it all make sense. Unlike many of his top-flight counterparts, he's already tasted the bitterness of being forced to sit out an entire season. To this day, the memories of being academically ineligible to play his first college season at Marquette still stings just as much as winning that NBA championship in 2006 steels him.
"I've missed a year of basketball in my life before," said Wade, who went on to become a college All-American and the No. 5 pick in the 2003 draft. "I'm not trying to miss another."
Having seen the recruiting he pulled off to get LeBron and Chris Bosh to Miami during 2010 free agency, I'm inclined to take Wade at his word on this overseas liberation.
Like other star players, he's frustrated with the fallout of the negotiating failures.
But are they frustrated enough to flee the country?
We'll see.