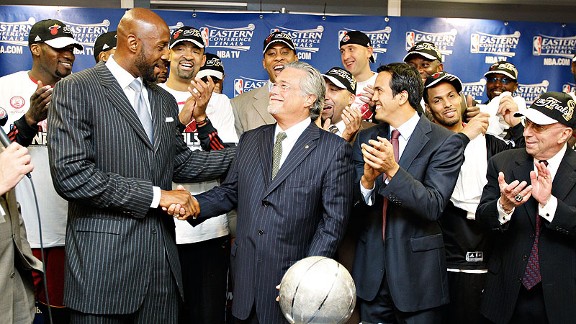 Nam Y. Huh-Pool/Getty Images
Even though the Heat aren't playing any time soon, it should feel good to be a Miami fan.
On a day spent giving thanks, the NBA fan might feel a little lost. Instead of watching basketball, the lockout is still in effect and there's no NBA to watch as we stuff ourselves with Thanksgiving nourishment. The typical NBA fan will have to steer their attention to football or, you know, the relatives.
But even though we may be headed toward a "nuclear winter," there's still much to be thankful for. Especially if you're a fan of the Miami Heat, a team that is set up for the long-term.

But what should Heat fans feel most fortunate about? Who should we credit as the architect of the Big Three? Which injury-rattled player should be grateful for a potentially abbreviated season?
In this Thanksgiving edition of Heat Index's 3-on-3 series, our writers debate about what Heat fans should celebrate on a dark day for the sport.
1. What should Heat fans be most thankful for?
Tom Haberstroh: Heat fans have a lot to be thankful for, but right at the top of the list? Hope. Hope that a season will happen after all. And more importantly, hope for a championship year in and year out. If you follow another team, all you might have is false hope when this thing is over. Not Heat fans.
Michael Wallace: They should be thankful for the fact that at some point - when all of the bickering and bashing is all over in this labor dispute - Heat fans will again be cheering for the most exciting and relevant team in the league. They'll also know that Dwyane Wade, LeBron James and Chris Bosh will be just as thrilled to see the fans as the fans are to see them.
Brian Windhorst: For those who live in South Florida that it's 80 and sunny in late November. Overall, though, it's that the team completed its free agency haul before the new CBA. It seems that new rules will be aimed to limit the creation if super teams. That not only makes the Heat grandfathered in but it might limit their competition over the next 2-3 seasons.
---
2. Who deserves more thanks for assembling the Big 3? Riley or Wade?
Haberstroh: Here's how I see it: Pat Riley gets the win, Dwyane Wade gets the save. Riley pitched six brilliant innings, working the corners and dealing wicked curveballs. When his job was done, Wade came in for the three-inning save and finished what Riley started. Once again, Wade lived up to his rep as a closer -- this time convincing two stars to forgo the comforts of being the undisputed alpha dog.
Wallace: I'd give the slight edge to Pat Riley. Yes, Wade certainly did a Calipari-esque recruiting job to recruit and lure buddies LeBron and Bosh, but it was Riley who gambled the future of the franchise by stripping the roster down to only Mario Chalmers and wiping the salary cap clean to create space to sign the Big 3. This was a process three seasons in the making.
Windhorst: This is a chicken/egg question. Dwyane Wade's recruiting efforts probably carried more weight than anything else in the days leading up to free agency. Then Wade set an example by accepting significantly less than the max to create room for other free agents. But it was Riley's two year series of maneuvers that created the most salary-cap space in history that made it possible. Wade might have been the spark but Riley did all the wood chopping.
---
3. Who would be most thankful for a shortened season? Miller or Haslem?
Haberstroh: Udonis Haslem. There's no denying that Miller probably saw more time this past year in the trainer's room than anybody in the NBA, but a healthy Haslem is more important than a healthy Miller. In many ways, Haslem holds the key to the Heat's vicious small-ball attack and gives them much-needed depth underneath. There's a time issue here too. Miller's already playing in exhibition games; Haslem's not.
Wallace: Mike Miller. And that's only because of his wacky injury history. Sure, Haslem has been banged up the past couple of seasons, too. But you'd have to figure that if Miller can find any rhythm whatsoever he can maintain a productive level of play over a shorter, rapid-fire schedule. Plus, the delayed start can only help overcome his two offseason surgeries.
Windhorst: Probably Mike Miller. He's older and has been dealing with a wider array of injuries over the last few years. For some reason, the guy bangs his head a lot too. Less games, less blows to the head.