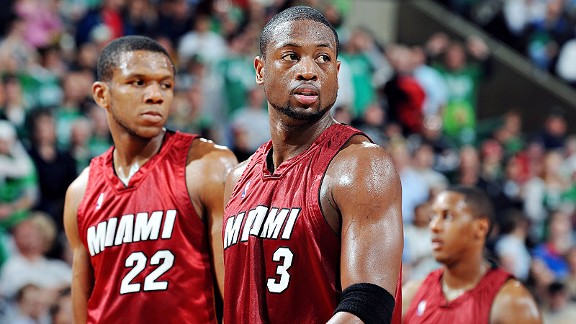 Brian Babineau/Getty Images
Before the Heat go shopping, they must first decide what to do with James Jones and Mario Chalmers.
Let the games begin.
The start of free agency is just around the corner and, by all accounts, the Heat will be active participants in the league-wide frenzy. Outside of LeBron James, Dwyane Wade and Chris Bosh, there's no question that Heat president Pat Riley has some holes to fill. Everyone and their friend's mother knows that Miami's most glaring needs are at the point guard and center positions.
But can they address those needs internally? In the debut edition of The Heat Market, we'll look at the Heat's impending free agents and the chances that they return to the Heat in another quest for the championship.
MIAMI'S FREE AGENTS
Mario Chalmers - Restricted | Age: 25 | Hollinger's projected PER: 10.3
James Jones - Unrestricted | Age: 31 | Hollinger's projected PER: 9.6
Mike Bibby - Unrestricted | Age: 33 | Hollinger's projected PER: 10.7
Juwan Howard - Unrestricted | Age: 38 | Hollinger's projected PER: 7.6
Erick Dampier - Unrestricted | Age: 36 | Hollinger's projected PER: 9.4
Jamaal Magloire - Unrestricted | Age: 33 | Hollinger's projected PER: N/A
Zydrunas Ilgauskas - Retired | Age: 36 | Hollinger's projected PER: N/A
---

Tom Haberstroh: As part of the master plan in 2010, the Heat dedicated a large portion of the roster to veteran stopgaps and fliers. As a result, it's possible that only seven players return to the team in 2011-12 -- eight if you really want to include Dexter Pittman as a "returning player." So they have some work to do.
In my opinion, it all starts with Mario Chalmers, who really came alive in the Finals last season. He was the only established youngster outside of the Big Three, but the Heat will see some serious competition if they want to reel him back. As a restricted free agent, the Heat will have the final say, but when it comes to the price tag, how high is too high for Pat Riley to re-sign Chalmers?

Michael Wallace: Of the six in-house free agents on the Heat's roster last season, I could only make a strong case for bringing back two at most: Mario Chalmers and James Jones. Chalmers would be foolish to think he'd be valued more in another franchise after the repeated opportunities he's been afforded in Miami. In all honesty, Jones might have more value in the open market than any of the Heat's free agents, including Chalmers, considering the way he shot the ball last season when given a respectable chance at playing time.
As with most teams, how the new collective bargaining agreement plays out will dictate the directions they go. If the Heat go beyond the 1-year tag on Chalmers, I'd think Pat Riley would value him somewhere along the lines of Joel Anthony, who got 5 yrs/$18 million last year.

Brian Windhorst: It must be assumed that the Heat will attempt to use their mid-level exception to get help at center. Combine that with the relatively thin point-guard market and all signs point toward re-signing Chalmers to be a legit need. Though I give him credit for showing that he can deliver in the clutch, there's no way I'd commit to Chalmers long-term. There's a chance the Heat attempt to get Chalmers to play for his one-year qualifying offer, which is just over $1 million.
The only way Jones is back is if he's willing to accept the minimum, which he already opted out of in June. The Heat may have him as a backup plan if some of their other shooter targets don't come through. Jones may look at the Heat the same way if there's a limited market for his services.

TH: Jones is an interesting case. Jones initially served as Mike Miller's insurance plan last season, but he proved that he's worth more than the league minimum. I'm with you Brian -- I don't see him coming back unless the Heat strike out on guys like Shane Battier and Grant Hill. Aside from them, can we all agree that Zydrunas Ilgauskas (who retired), Jamaal Magloire, Juwan Howard and Erick Dampier have played their last games in a Heat uniform, or an NBA uniform for that matter?

BW: The Heat are desperate at center, frankly. I know they were only two games from winning it all. Actually, I feel they were 2-3 plays from LeBron in the fourth quarter of Game 4 from winning it all. But their center situation is their most pressing need. There was a reason the Heat were at the scrap yard last year looking for centers, they were in that bad of shape. Now they have a chance to address it and they will make that the No. 1 priority. All of their own free agents are down the list from that need.

MW: I think there might be a market for Magloire -- somewhere. He did have, what, 20 rebounds in that regular-season finale against Toronto that helped Miami ultimately secure homecourt advantage in the Finals over Dallas. The Heat will bring in a center via free agency, hang on to Joel and likely hope that Dexter Pittman can develop as the third, break-glass-in-case-of-emergency center.

TH: Last season was defined by uncertainty, especially on the personnel-side. The Heat have maintained that they needed wiser (older) veteran big men to help implement a no-nonsense professional and defensive mindset, but is that necessary anymore? In other words, what did the Heat learn from their experiment with older bigs last season? Did they reshape what Riley thought this team needs underneath?

MW: Riley knows his team needs an infusion of youth and athleticism, especially in the low post. Pittman could provide some of that, in terms of youth. They'll have to do some outside shopping for the athleticism. As far as the veteran touch, I remember how much Juwan Howard resented being classified as a "locker room guy." Last year, that might have been needed to help everyone ease into a major transition. But this year, that leadership and tone should be set by primarily by James, Wade and Bosh.

BW: There are probably 5-7 different free agents who can fill a role for the Heat on the wing and maybe 3-4 names that could help them at point guard because they don't need a true PG on the floor all the time. At center, it's a tight list. It's so tight they are probably going to use their entire mid-level on a center and then sign Eddy Curry and maybe even a third nameless big man. Then they're going hope that between them and Pittman (who I wouldn't count on for anything) and Anthony that they can get enough to get through four rounds of playoffs.
---
Thursday's edition of The Heat Market: Miami's free agent point guard options.
---