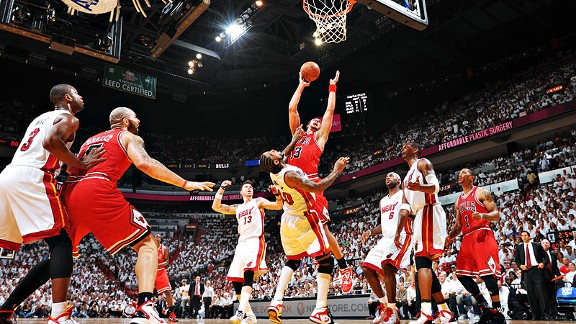 Jesse D. Garrabrant/NBAE via Getty Images
Getting these five players on the court again may be the Heat's best option, not breaking up the core.
MIAMI – I get the sheer joy and excitement that stems from the reality that the NBA will return full of vigor only weeks after the epic threat of a nuclear winter.
I comprehend the fan frenzy leading to the tentative Dec. 9 start of training camps and free agency around the league, particularly in Miami with the Heat.
I truly understand how logic and perspective sometimes get lost amid mountainous piles of hopes, dreams, misunderstandings and miscalculations while trying to break down the ABCs of the tentatively agreed upon CBA (collective bargaining agreement).
But here's where I'm lost: Why does there exist the notion that Miami suddenly transitioned from being successfully greedy in last year's free agency coup to somehow among the desperately needy now?
So after pulling off the biggest free agency miracle in professional sports by teaming LeBron James, Dwyane Wade and Chris Bosh, Heat president Pat Riley absolutely must have an encore up his sleeve to keep this team afloat?
Why should a team that fell two victories short of an NBA championship in its first season together break up elements of its core, crack the vault to pay a potentially heavy luxury tax burden and sacrifice some sense of continuity heading into a compressed 66-game regular season?
All for Samuel Dalembert? Trades that target Nene?
Really?
Nah.
Think for a second, people. Anyone lifting a finger to push the panic button on the Heat's roster right now really needs to get a better grip on reality. And a better understanding of how this team tends to operate. Basically, here's where the matters stand with the Heat's options.
Heat owner Micky Arison and team president Pat Riley are sifting through plenty of trades and free agency scenarios as the team searches for ways to improve from last year's loss to Dallas in the Finals. And yes, those options include using the proposed amnesty clause to release oft-injured and frustratingly inconsistent sharpshooter Mike Miller. By erasing Miller's contract off the books, which pays him $5.4 million this season, Miami could then more easily re-sign point guard Mario Chalmers, sign rookie first-round draft pick Norris Cole, pay off some outstanding salary debts to since-departed free agents from last season's training camp and still fall within the luxury-tax limits to use the full $5 million mid-level exception to add a much-needed center such as Dalembert.
Another other option is to bring Miller back with a core that includes James, Wade, Bosh and Udonis Haslem, lock up Chalmers and Cole, still take care of those old debts that might push Miami past the $74 million luxury tax line that then restricts teams to the $3 million mini mid-level.
Beyond that, the Heat could bring the key pieces back from last year's team and then fill in the gaps with championship-chasing veterans who would come to Miami for the veteran's minimum, which is a contract that's supplemented by the league.
I can't say for certain whether Miller is on his way out of Miami. What I do know is that the Heat have not decided on any course of action yet, and won't do so until Riley and Arison get a better understanding of which players might be available at reasonable prices.
There is a strong sentiment within the Heat that last season's team, including Miller, should be kept intact and given a chance to enter the season at full strength. That's a place where Miami's core never resided last season – even when Miller and Haslem limped their way into action late in the playoffs.
Still digesting the bitter taste of the Finals disappointment, Riley talked at length in June about this team making strides from within. His message to LeBron, Wade and Bosh was that the fate of the team was on their shoulders, that much of the heavy lifting to put a championship team together was done in the summer of 2010.
After last season's developments, we know this Heat group needs to accessorize in some areas. But the outfit as is should be enough to win a championship. Riley's message was that any team that takes the court with a decisive advantage almost every night at shooting guard, small forward and power forward doesn't have the luxury or sympathy to complain about shortcomings in other areas.
At the same time, the Heat won't stand idly if there's a chance to make smart, economical moves to bolster depth and bulk up down low. Riley's history with the mid-level exception has been to only offer the full amount to star players who has no business settling for anywhere near that amount of money beyond a chance to contend for a championship.
He tried to get Rashard Lewis to bite in 2007 and nearly got Lamar Odom to accept in 2009. But Riley's normal business practice is to split the amount among two or three players and address multiple needs. And there's no bigger need than at center for the Heat.
But don't expect this team to spend lavishly, especially when factoring in the luxury tax penalty. Money and centers are sensitive subjects for the Heat, who in the past five years have paid $20 million to Shaquille O'Neal, donated $7 million to the Mark Blount fund, survived a $23 million expiring balloon payment to Jermaine O'Neal and are more than $3 million into Joel Anthony's $18 million contract.
You really have to ask yourself whether Dalembert at $5 million is appreciably better than, say, Kwame Brown at $3 million. But then, you have to wonder if you might be able to get just as much out of Kurt Thomas for $2 million. And if you're already against the luxury tax at that stage, where every single penny might count twice as much for Arison, the question is whether Eddy Curry for the veteran's minimum on a make-good contract is the way to go.
In reality, the ultimate answer is that just about any of the above is better than what the Heat had patrolling the paint last season. And even in Curry's case, he can't be much less effective.
The Heat always operate under the premise of letting the market set itself and then seeing which viable options are willing to fall into their laps to fill those roster holes. Arison and Riley have no reason to pull the trigger on any move they might later regret. There have already been enough Smush Parkers and Rafer Alstons sprinkled throughout the franchise in attempts to patch up holes.
The Heat certainly won't overspend now.
And they don't panic in free agency. They persevere.
Miami didn't lose the Finals because it didn't have Dalembert, Grant Hill or Shane Battier on the roster. They came up short because LeBron lost his way, Wade lost his mojo and Bosh lost his mind, emotionally.
Forget the outside free agency or major trade fantasies. As long as James, Wade and Bosh are here, this is mainly an inside fix.